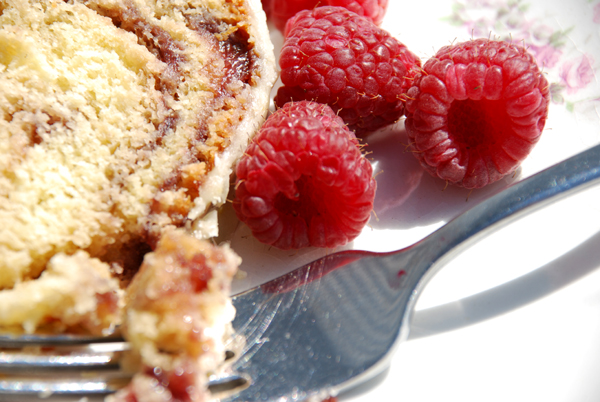 The giveaway is now closed. Congratulations to the winner, Amy Beth! Spring holidays are fast approaching, and if you aren't hosting your family's festivities, it's entirely possible – nay, highly likely – that you've received a request to bring an appetizer or a dessert.
On the dessert front, HP Hood created the recipe below for Sweet Raspberry Tea Cake, which is suitable as a breakfast cake (dessert for breakfast!), as well as a post-dinner delight.
It's also fairly addictive, as evidenced by the fact that we just finished the cake from my first baking of it last weekend (like not this weekend, the weekend before. It keeps well.), and the second cake, which was intended for a photo shoot this morning, didn't quite make it past dinnertime intact. I hope you'll forgive the iPhone photo, as that's all I've got for an all-in-one-piece representation.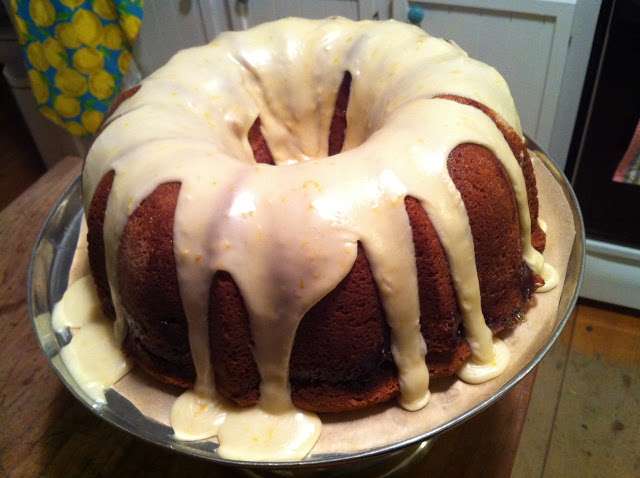 As you probably know, I don't do a lot of giveaways here. So, when Hood approached me about this giveaway, I was thrilled that they understood what makes you and me tick. Saving, yes, but saving and goodness combined.
So to start, Hood is giving us a coupon, good for $1.00 off of 2 16-ounce (or bigger) containers of Hood Sour Cream. This isn't something you have to win, it's just yours. And you should know that there are also coupons available on their site for ice cream, cottage cheese, half-and-half, and cream.
So far, I've used one container of sour cream making this cake twice, have used part of the other container making sour cream biscuits (yep. delish.), and will use the rest of the second container making mustard-sour cream sauce for Easter. Hood Sour Cream costs $1.89 for 16 ounces at my local grocery store, so $1.00 off gets the cost down to $2.78 for two. Pretty sweet, right?
I thought that was pretty cool, but then, it got better. Entertaining can be done beautifully and inexpensively, but any time you're feeding a crowd, your grocery bill is going to go up – you just can't feed 16 for the same cost that you're able to feed 4.
So Hood is giving one lucky winner a $100 gift card to offset holiday dining expenses, or, heck, for whatever you'd like, really. It's a gift card, after all.
Following the recipe for Sweet Raspberry Tea Cake are all of the ways that you can enter. Each is worth 1 entry, however, if you post a photo of your Sweet Raspberry Tea Cake to the Poor Girl Gourmet Facebook page and tag HP Hood, that's worth an additional 3 entries.
The giveaway is open through Monday, April 9, midnight EST. Only US residents are eligible, and the drawing will be made at random.
The winner will be announced on Tuesday, April 10 by noon, EST.
Without further ado, here's the recipe. Get baking!
Hood® Sweet Raspberry Tea Cake

Ingredients

Cake:

1 cup Hood Sour Cream
1 cup Hood Half & Half
2 sticks unsalted butter, plus 2 tablespoons to coat the pan
2 cups granulated sugar
2 large eggs
2 teaspoons vanilla extract
1 cup seedless raspberry jam
3½ cups unbleached all-purpose flour
1 teaspoon salt
1 teaspoon baking soda
2 teaspoons baking powder

Icing:

2 cups confectioners sugar, sifted
½ teaspoon vanilla extract
2 tablespoons Hood Half & Half
½ pint fresh raspberries

Instructions

For the cake:

Before starting, make sure all ingredients are at room temperature.Generously coat a large 6 cup bundt pan with 2 tablespoons of unsalted butter and set aside. Preheat the oven to 325°F. In a large mixing bowl, sift the dry ingredients (flour, baking powder, baking soda, and salt) together and set aside. Thin out the raspberry jam with the 2 teaspoons of vanilla extract in a small bowl and set aside. In the bowl of a stand mixer with a paddle attachment, cream the remaining 2 sticks of unsalted butter until smooth. Add in the sugar and beat on high until light and fluffy. Beat the eggs in one at time, scraping down the bowl after each addition.Mix in the Hood Sour Cream.
Add the dry ingredients in thirds, alternating with the Hood Half & Half, being careful to not over mix.Carefully fold in ½ of the raspberry jam mixture, but do not incorporate completely.Pour half of the batter into the prepared bundt pan.Take the remaining raspberry jam mixture and spread it over the batter in the pan, being careful to stay away from the edges.
Pour the remaining cake batter into the pan.
Bake for one hour, or until a toothpick comes out clean when inserted in the center of the cake. Cool the cake completely and remove from the pan.

For the Icing:

Combine the Hood Half & Half, vanilla, and confectioners sugar in a small bowl and stir until smooth.
Pour the mixture over the top, allowing the icing to fall down the sides of the cake. Garnish the top with fresh raspberries and serve.

http://www.tinyfarmhouse.com/2012/04/sweet-raspberry-tea-cake-and-a-giveaway-with-hp-hood/
Alternatively, I made a version of the icing with tangerine juice and zest in place of the vanilla extract. That madness went like this:
2 cups confectioners sugar, sifted
the zest and juice of one tangerine (approximately 2 tablespoons juice)
2 tablespoons Hood Half & Half
And those items were mixed until smooth. I like the contrast of the citrus with the raspberry, though you could just as easily substitute raspberry liqueur or another flavor you crave if you like. You could also use a different type of jam – strawberry perhaps? Or blueberry, or peach, or, or – you get the idea.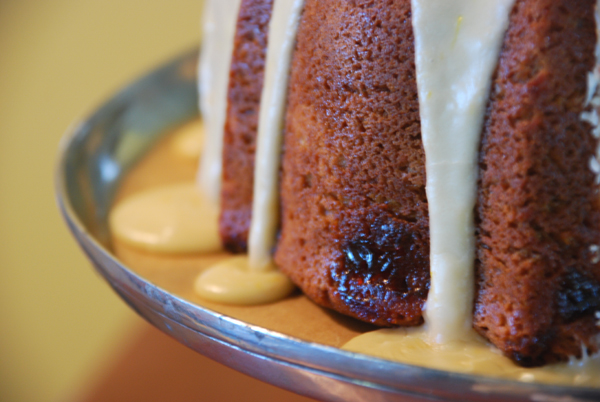 If only I had a mini-mini-me. I'd stand under the icing waiting to eat it before it pooled. Yep. Sounds bizarre, but you know you wish you could do it, too.
Each of the items below is worth one entry.  So there are 5 ways you can enter here, plus you get 3 additional entries if you post a photo of your Sweet Raspberry Tea Cake to the Poor Girl Gourmet FB page.
To enter, please be sure that you'll be able to be contacted if you win, and please:
* Leave a comment here to share your favorite dish (app, main, side, dessert, whathaveyou) made with Hood Sour Cream.
* Like HP Hood on Facebook, then let me know in the comments here that you've liked HP Hood. As an added bonus, while you're there, and unrelated to this giveaway, HP Hood is giving away a high-end stand mixer on their FB page(just go ahead and guess the brand. I use mine all the time & swear by it), so you should probably enter that as well, don't you think?
* Like the Hood New England Dairy Cook-off on Facebook, and, again, let me know in the comments here that you've liked it. If you aren't familiar, the Cook-off is an opportunity for New England's home cooks to create recipes using Hood Sour Cream, and for finalists to then compete for serious dinero. Like thousands of dollars. The Cook-off takes place around the end of October each year, but entries open up in advance of that, so their FB page is a good place to learn more about the what and when.
* Like Poor Girl Gourmet on Facebook, and…you know, let me know about that here, too. And don't forget about posting photos of your cake for bonus entries!
* Tweet: "I entered to win a $100 gift card from HP Hood via @poorgirlgourmet http://bit.ly/HKqOdZ #giveaway"
note: HP Hood provided the recipe above, which I tested in my home kitchen twice, both times with delicious results. HP Hood also provided me with a $100 gift card for my participation in this giveaway.