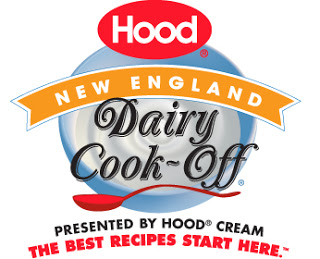 A few years ago, I was lucky enough to serve as a judge for the chefs' competition at the Hood® New England Dairy Cook-Off® in Portland, Maine.
The chefs' food was, of course, fabulous (sour cream ice cream with candied bacon – need I say more?!), but the main attraction of the event were the home cooks. One from each New England state came to compete for a grand prize of $10,000.
Yes. Ten thousand dollars.
Last year, the winner was from Rhode Island, taking the ginormous check home thanks to his Surf and Turf Sliders with Maine Lobster Sauce.
Fittingly, given that the 2011 champ was from Rhode Island (though, really, it's probably just a coincidence), the Hood® New England Dairy Cook-Off® is going to take place at the Rhode Island Convention Center in Providence this October 21st.
If you're an amateur cook from any of the six New England states, you can enter to compete for the Grand Prize now through September 10, 2012.
Then, you'll have your opportunity to trounce the competition on October 21st. And take home that giant cardboard check. You'll probably want to borrow a pick-up truck (possibly a tarp and some bungee cords, too) to be sure that the check rides home comfortably.
In order to enter, your recipe must be original, and must include one Hood® product: milk, Hood Simply Smart® Milk, buttermilk, cream, cottage cheese, sour cream, eggnog, Hood Country Creamer®, or Hood Calorie Countdown®.
You can submit a recipe in one of five categories: breakfast/brunch, soup/chowder, appetizers/side dishes, lunch/dinner (entrees), or dessert.
I know it's still summer, but I'm looking forward to trying that dessert recipe of yours that uses eggnog. Just sayin'.
For more information, or to enter the Hood® New England Dairy Cook-Off®, visit HoodCookOff.com, and, entrant or not, become a fan at Facebook.com/HPHood.
I hope to see you at the cook-off in October!
Full disclosure: I am working with Hood to help promote the Hood New England Dairy Cook-Off, and am receiving compensation for the promotion. My opinions, as always, are my own. I like me a cook-off.