I know, I know, not terribly sexy, but from recent party observations, people (this person included) really like themselves a Seven Layer Dip, and canned items are an expected part of the deal.
Sure, I could re-fry my own pinto beans, soak and make spicy a couple cups of black beans, chop up some vegetables for salsa, and make guacamole, but darn it, it's hot out.
And hotness, I've learned just lately, makes me lazy (sure, go ahead. Call it heat. Fine. I'm delirious with hotness stroke, so I can't even find the proper words. And right now, I like hotness better.).
A few weeks ago, despite the overwhelming hotness of the day, we decided it would be a good idea to light a fire and sit around it after the work day was over.
We have some friends who also like sitting around a fire on a 90 degree day, so by sunset, Fire Pit Friday was in full swing in our backyard. We told stories, we laughed, we listened to music, we gazed at the fire in a stupor.
Perhaps it was the wine that caused the stupor. Or it could have been the heat. Ahem, hotness. No matter the cause, when we broke from the spell of the fire and/or booze, we ate. But of course.
Fire Pit Fridays are a potluck affair, so even though we're the hosts, we're only responsible for a few snacks. On this particularly steamy Friday, Seven Layer Dip seemed the best, least labor-intensive option.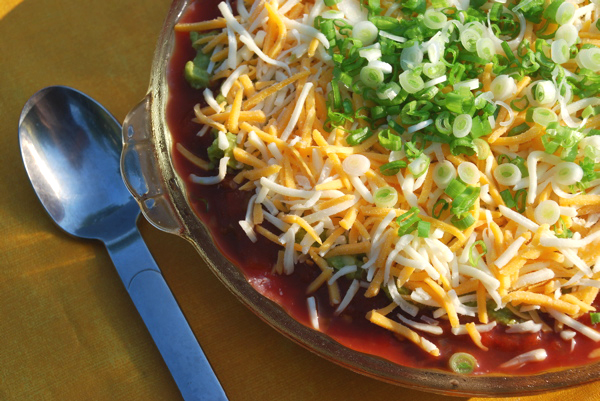 Ingredients

(1) 15 to 16 ounce can refried beans
1 cup sour cream
4 ounces cream cheese, softened
(1) 15 to 16 ounce can black beans, drained of liquid (I didn't rinse, but this is up to you)
8 ounces guacamole
one wedge of lime
(1) 16 ounce jar of salsa
8 ounces shredded cheddar, monterey jack, and/or pepper jack cheese
1 green onion, white and light green parts sliced into thin rounds
tortilla chips for serving

Instructions

There are only two steps in this recipe that could even remotely be considered labor. Those are: the mixing together of the sour cream and the softened cream cheese, and the slicing of the green onion. Otherwise, my friend, we are spreading things in a serving dish.
As you can see in the photo above, a deep pie dish makes for a good Seven Layer Dip bowl, as does a casserole dish or lasagna pan.
First, spread the refried beans in a layer on the bottom of your selected dip dish.
Second, prepare to sweat as you whisk together the sour cream and cream cheese. Not to worry, this hard work will soon be over. Once the sour cream and cream cheese are one, spread them over the refried beans.
Third, pour the black beans over the cream mixture, and spread them into a single layer.
Fourth, spread the guacamole over the black beans.
Fourth and a half, squeeze the juice from the lime wedge over the guacamole.
Fifth, pour the salsa over the guacamole.
Sixth, toss the shredded cheese over the salsa.
Seventh, sprinkle the sliced green onion over the cheese.
Eighth, place the dip on the buffet table and wait for your guests to arrive before diving in. For it is slightly rude to eat half of the dip before the others even show up.
But only slightly. If they're good friends, they'll forgive you. And blame it on the hotness stroke you obviously have.

http://www.tinyfarmhouse.com/2012/07/seven-layer-dip/
Estimated cost for a vat of Seven Layer Dip and the chips that go with it: $19.26.
I used Whole Foods Market 365 Everyday Value brand things-in-cans-and-jars for this dip the last few times I've made it, with the exception of their prepared foods' guacamole, which is the most expensive item on the ingredients list. However, on the occasion when I have made the guacamole myself, I found that my overwhelming laziness, and therefore disdain for food preparation at that time, led me to believe that for a dollar or so difference in price, it was worth it to continue on the convenience train instead.
Refried beans cost $1.49, sour cream cost $2.39 for 16 ounces, we used half, that's $1.20. One-half of the cream cheese package costs 70-cents. The black beans cost $1.49, the guacamole cost $5.21 for just over 1/2 pound. The lime cost 50-cents. The salsa cost $2.49, the cheese cost $4.39 for 16 ounces, we used half, so that's $2.20. The green onion came from the garden (what?! not from a can???), but green onions tend to cost around 99-cents for a bunch, so I'll go ahead and make like we have no other use for green onions besides this, and will add in the whole 99-cents. The tortilla chips were $2.99, and there were leftovers, but if you brought this to a party, you wouldn't bring the leftover chips home, so $2.99 it is.