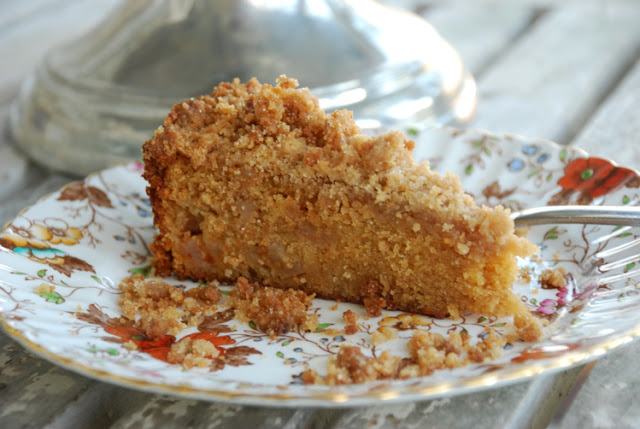 This giveaway is now closed. Congratulations to Angie who tweeted her winning entry.
Eggnog season is historically a bit of a problem for me. A problem of indulgence. There is eggnog French toast, there are eggnog-hazelnut cupcakes, there are my friend Artie's amazing eggnog cookies. There is eggnog, straight up. There is eggnog, spiked.
And then, there is this. This Apple-Caramel Eggnog Coffee Cake.
Which brings us to the fact that there is Caramel Eggnog available in the world.
You may know that I've been working with Hood on a few projects over the last year. About a month ago, they emailed me to ask if I'd be interested in receiving their new Caramel Eggnog. Given my love of caramel, and my love of eggnog, particularly of baking with eggnog, I said heck yeah.
Now, I know that eggnog ardor is not universal, but I'm pretty sure that most people would have a hard time passing by Caramel Eggnog. Why am I so sure? Because even JR, who is not an aficionado of eggnog took a sip of this caramel version, turned to me, and said, "Wow! That's good!"
Sure. It's only anecdotal evidence, but (clearly, for I am noting it) I felt it's worth noting.
As soon as I tasted the eggnog, I thought, "this needs to become cake. With apples, too."
The first version of this cake didn't have the crumb topping, and used only one apple. It was quite good, but a little simple for the holiday season, and, if you're like me, you might be looking for a cake to gift out. And one cannot gift a simple cake, can one now?
Be certain to use baking apples in your cake, as you want apple chunks suspended in the crumb, not apple sauce. I used Cortlands, though Braeburn, Gala, Jonagold, or Honeycrisp apples would also work well in this recipe. I'd normally try to champion the use of Rhode Island Greenings for baking, but they are more tart, and this is one sweet, decadent cake.
Though this cake was baked in a 9-inch springform pan, when the gifting time comes, I'll use these paper baking pans, which I consider a boon to the diy gift-maker/baker. Because they are 8-inch pans, plan for the cake to take 5 to 10 minutes longer than it would in a 9-inch pan, and check for doneness as the time draws near to by inserting a toothpick into the center of the cake. The cake is done when the toothpick comes out clean.
Oh, and while we're in the recipe notes section of this post, gather up your medium mixing bowls. You'll be using a few for this cake, though even if you have to wash them by hand as we do here, it's still well worth it.
Apple-Caramel Eggnog Coffee Cake

Ingredients

For the crumb topping:

1 1/4 cup unbleached all-purpose flour
6 tablespoons (packed) light brown sugar
1/4 cup granulated sugar
1 teaspoon ground cinnamon
8 tablespoons (1 stick) unsalted butter, melted
1/4 teaspoon vanilla extract

For the cake:

2 medium (approximately 1 pound) baking apples, such as Cortland, peeled, cored, and chopped into approximately 1/2-inch cubes
2 tablespoons granulated sugar
1 teaspoon ground cinnamon
1 cup unbleached all-purpose flour
1/2 cup whole wheat flour
1 1/2 teaspoons baking powder
1/2 teaspoon kosher salt
8 tablespoons (1 stick) unsalted butter, softened
3/4 cup granulated sugar
3/4 cup (packed) light brown sugar
3/4 cup Hood Caramel Eggnog, at room temperature (65-70 degrees F)
2 large eggs

Optional glaze (this is a thin glaze, and not necessary, but if you'd like a little extra Caramel Eggnog on your cake):

1/4 cup confectioners' sugar, sifted
1 tablespoon Hood Caramel Eggnog

Instructions

Preheat the oven to 350 degrees Fahrenheit. Butter your 9-inch springform pan.
In the first of three medium mixing bowls to be used, let's make the crumb topping, shall we? Mix together the flour, sugars, cinnamon, melted butter, and vanilla extract. As indicated by its name, its consistency should be crumbly.
Place the apple cubes in another medium mixing bowl, then mix the sugar and cinnamon together, and sprinkle it over the apples.
In the last required medium mixing bowl, stir together the all-purpose flour, whole wheat flour, baking powder, and salt.
And, in a large mixing bowl for a change, cream together the sugars and butter. Once they're creamed, pour in the Caramel Eggnog and mix until it's fully incorporated into the batter. Add the eggs, one at a time, until they are just mixed in.
Add the flour mixture to the sugar mixture, and mix just until the dry ingredients are incorporated.
Pour in the apples and any accumulated liquid from their mixing bowl, then stir them into the batter.
Transfer the batter to your springform pan and level the top out.
Top the batter with the crumb mixture, then bake until the crumb is golden brown, and the cake passes the insert-toothpick test, 1 hour 5 minutes to 1 hour 10 minutes.
Remove the cake from the oven and allow it to cool on a baking rack for an hour before releasing it from its springform pan. Before removing the pan, run a knife around the edge of the pan to free any stuck apples from the perimeter.
While the cake cools, whisk together the confectioners' sugar and eggnog in a small mixing bowl, then drizzle it over the cake once the cake is free from the pan.
I recommend French vanilla ice cream or whipped cream to go with this, though my next Caramel Eggnog adventure is going to be ice cream, and I'll wager that would go pretty darned well with this cake.

http://www.tinyfarmhouse.com/2012/11/apple-caramel-eggnog-coffee-cake-and-a-giveaway-from-hp-hood/
Estimated cost for one Apple-Caramel Eggnog Coffee Cake: $6.68. The flour for the entire cake costs $.51. The brown sugar is $.60, the granulated sugar is $.34. The butter is $1.40, apples are $2.49 for 1 pound (though I do like to try to find the $1.00/pound not-so-perfect apples at the farmers market whenever possible). The eggs are $.32, eggnog is $.67, cinnamon is approximately $.25, baking powder is less than a penny, and the confectioners' sugar is $.09. With the bake-and-give pans, you're still looking at less than $10 (excluding your time, of course) for a lovely homemade gift.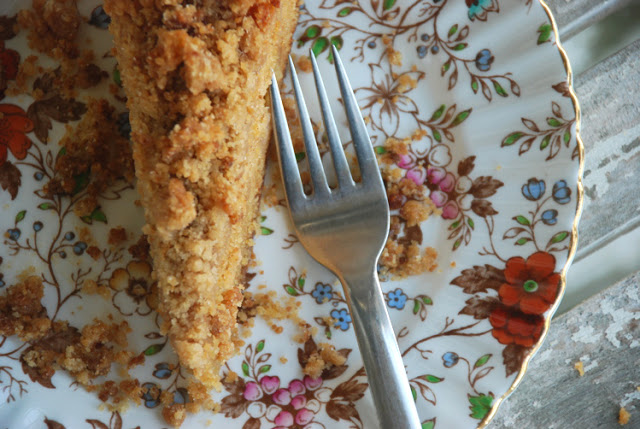 And now for even more good stuff. The giveaway part. Hood has generously provided the following prize for one lucky reader:
free product coupons for Hood Eggnog (cake! French toast! cupcakes! cookies! all with free eggnog!)
a $100 Visa gift card to help you buy eggnog, other holiday groceries, gifts, or what-have-you
The giveaway is open only to residents of the 6 New England states (geography reminder: Connecticut, Maine, Massachusetts, New Hampshire, Rhode Island, and Vermont. Those are the ones.), and you must provide a means of getting in touch with you with your entry here (email, Twitter, FB, etc.).
Entries may be submitted through Sunday, November 18 at midnight EST. The winner will be drawn at random and will be announced by noon EST on Monday, November 19. The winner will have 24 hours to respond, after which time, another winner will be drawn.
Each of the below counts as one entry:
1. Leave a comment here about your favorite use for eggnog. Do you drink it straight out of the container? Not condoning, not judging either. Do you make holiday treats with it?
2. Like HP Hood on Facebook, then come on back here and leave a comment letting me know that you have.
3. Hey! While we're at it, like Poor Girl Gourmet on Facebook, then leave a comment here to let me that know that you have.
4. Follow @hphood on Twitter, and do that whole let-me-know-in-the-comments thing again.
5. And, lastly, tweet "I entered to win free @hphood Eggnog & a $100 Visa gift card via @poorgirlgourmet – enter here: http://bit.ly/UmFdAo"
In the meantime, if you need to get your hands on Hood Caramel Eggnog before the giveaway is complete (ahem. and why wouldn't you?), grab this coupon for $1.00 off two quarts or two half-gallons of Hood Eggnog (plus there are other good holiday food-making coupons there, too. I'm thinking sour cream-based dip. Not with eggnog, though.).
the fine print: HP Hood has compensated me for this post, though, as always, all opinions are my own. The cake recipe was solely my idea and was developed by me, and darn it, I really like this cake. A lot.