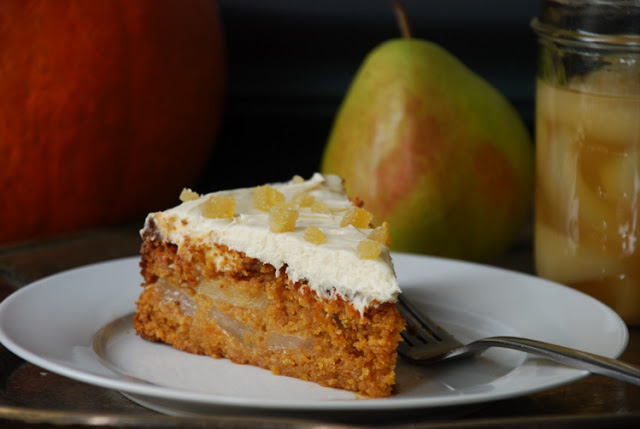 The Hodgson Mill "Have a Grain Holiday" giveaway is now closed. Congratulations to Manda, who won the prize pack!
This is a more healthful cake than my usual, being a whole grain baked good and all, flavored with pumpkin and loaded with pear slices. Whole grains! Fruit! Vegetables!
However, I couldn't help but top it with a decadent ginger-cream cheese frosting. But then I added more fruit to the mix by serving it with slices of ginger-poached pears. Additional pears balance out cream cheese frosting, don't they? Cream cheese! Fruit! Hey, don't forget. We're using whole grains here!
When Hodgson Mill asked if I'd like to participate in their "Have a Grain Holiday" contest, I had to say yes. There's a lot of cake getting gifted out of our house during the holidays, and I do try to include wheat flour whenever possible, though my baking to this point has always included a mix of all-purpose white flour and whole wheat flour.
When the package of Hodgson Mill flours arrived and included Whole Wheat Pastry Flour, I was intrigued, yet still a bit skeptical. The temptation to blend the pastry flour with white flour for a fluffy texture remained, but I muscled through my fear of dense, leaden cake and went with the 100% whole grain flour for this.
Even after talking myself down from the flour-blending cliff, I remained concerned that I might have wasted precious pumpkin, pureed from one we'd grown ourselves (this makes it even more valuable to me, even if the actual out-of-pocket expense is less), and I grew impatient with the cake cooling time, anxious to slice on in there and try it.
I was not disappointed. JR was not disappointed (he is the official taster here, of course). The cake was perfect. The crumb is rich yet fluffy, no dense rock of a cake here, people.
After this success, I plan to test a couple of other cakes that usually get the white flour-wheat flour blend treatment to see if they'll be converted over to 100% whole wheat pastry flour. I'm pretty confident that the change will be made.
And that makes my holiday cake gifting a little more healthful.
And I am totally on board with that. As I'm sure my giftees also will be.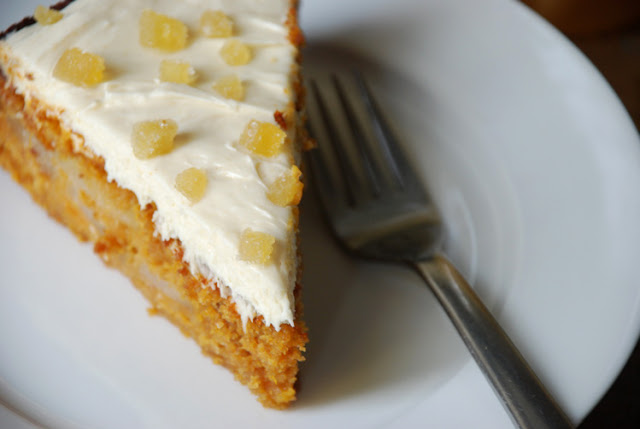 Hodgson Mill is generously offering a prize pack valued at $25 to one lucky reader here, so that you, too can have a more healthful holiday baking season. Directions on how to enter follow the recipe.
If you'd like to up the giveaway ante, you can also enter to win a prize pack valued at $85 over at Hodgson Mill.
And, if you need to get yourself some Hodgson Mill Whole Wheat Pastry Flour straight away (and why wouldn't you?) you can find a coupon for $1 off Hodgson Mill products here.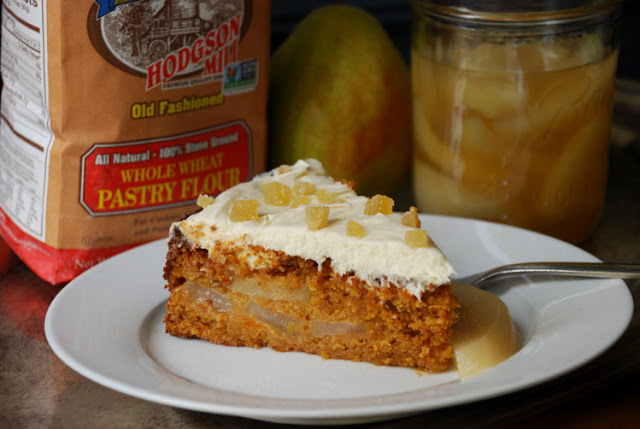 Whole Wheat Pumpkin-Pear Cake with Ginger-Cream Cheese Frosting

Ingredients

2 medium firm-ripe pears, such as D'Anjou, peeled, cored, sliced into 1/4-inch pieces
2 tablespoons ginger syrup*
1 1/2 cups Hodgson Mill Whole Wheat Pastry Flour
1 1/2 teaspoons baking powder
3/4 teaspoon ground cinnamon
1/2 teaspoon ground ginger
1/2 teaspoon kosher salt
1/2 cup (1 stick), unsalted butter, softened
1/2 cup granulated sugar
1/2 cup (packed) dark brown sugar
3/4 cup pumpkin puree (a little less than half a can if using canned. you can freeze the remaining puree for future use)
2 large eggs
1/3 cup diced crystallized ginger

Frosting:

8 ounces cream cheese, softened
2/3 cups confectioners' sugar, sifted
2 tablespoons ginger syrup
1 teaspoon ground ginger

Optional garnish:

1/4 cup diced crystallized ginger

Optional fruit accompaniment (who doesn't like an optional fruit accompaniment? it almost offsets cream cheese frosting.):

1 medium firm-ripe pear, peeled, cored, sliced in half lengthwise, then halves sliced lengthwise into 1/4-inch pieces
1/2 cup ginger syrup
1/2 cup water

Instructions

Preheat the oven to 350 degrees Fahrenheit. Lightly grease a 9-inch springform pan with butter.
In a small mixing bowl, combine the pears and 2 tablespoons of ginger syrup.
In a small mixing bowl, mix together the flour, baking powder, cinnamon, ginger, and salt.
In a medium mixing bowl, cream the sugars and butter, then add the pumpkin puree and mix until it's fully incorporated. Add the eggs, and mix until they are just incorporated into the sugar mixture.
Pour the dry ingredients into the sugar mixture, and mix together well. Stir in the pears, ginger syrup, and the 1/3rd cup of diced crystallized ginger.
Spoon the batter into the springform pan, then level it out.
Bake the cake until it is dark brown and a toothpick inserted into the middle comes out clean, 1 hour 10 minutes to 1 hour 15 minutes.
If the edges of the cake start to brown too much, cover the edges of the cake with aluminum foil.
Remove the cake from the oven, and allow it to cool completely on a cooling rack before frosting. Before removing the springform, run a knife around the edge of the cake to insure that it doesn't stick.
To make the frosting, in a medium mixing bowl, whisk together the cream cheese, sugar, ginger syrup, and ground ginger until they become a light, fluffy frosting. This should take 2 to 3 minutes on medium speed if using a stand mixer.
Once the cake has cooled completely, spoon the frosting onto the cake, and spread it across the top of the cake. Sprinkle the remaining 1/4 cup of diced crystallized ginger over top of the frosting.
In a small saucepan, bring the water and syrup to a boil. Add the pear slices, stir to be sure they're submerged, then reduce the heat to a simmer and cover, cooking until the pears are translucent and easily pierced with a fork, 12 to 15 minutes.
Poached pears may be made a day ahead, and they and their liquid stored in an air-tight container in the refrigerator.

Ginger syrup is available in many grocery stores, online, or you could make your own.

http://www.tinyfarmhouse.com/2012/11/whole-wheat-pumpkin-pear-cake-with-ginger-cream-cheese-frosting/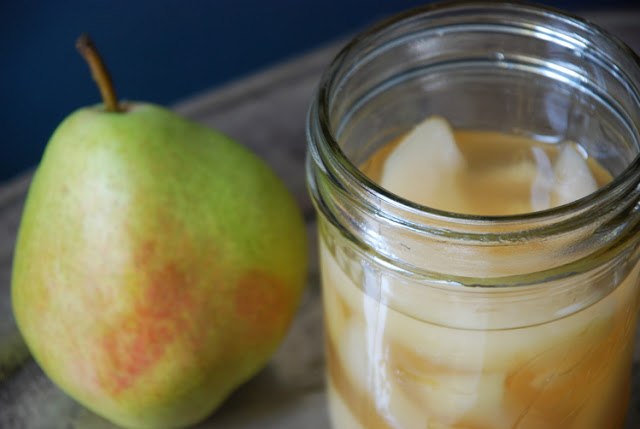 Giveaway details:
The giveaway is open to residents of the United States, and will be open until Friday, November 30, 2012 at 11:59pm EST.
The winner will be drawn at random, and will be announced by noon, Saturday, December 1, 2012.
Please be sure that you provide a method by which to get in touch with you with your entry (twitter handle, email, google+, etc.).
If you win and do not claim your prize within 24 hours, another winner will be drawn.
Each of the following counts as an entry:
Leave a comment here with the name of the holiday baked good that you're hoping to add more grain to.
Follow @HodgsonMillInc on Twitter, then let me know here in the comments that you did.
Tweet: "I entered to win a @HodgsonMillInc "Have a Grain Holiday" prize pack via @poorgirlgourmet. Enter here: http://bit.ly/XSmm8m #HAGH"
Good luck, and thank you for entering!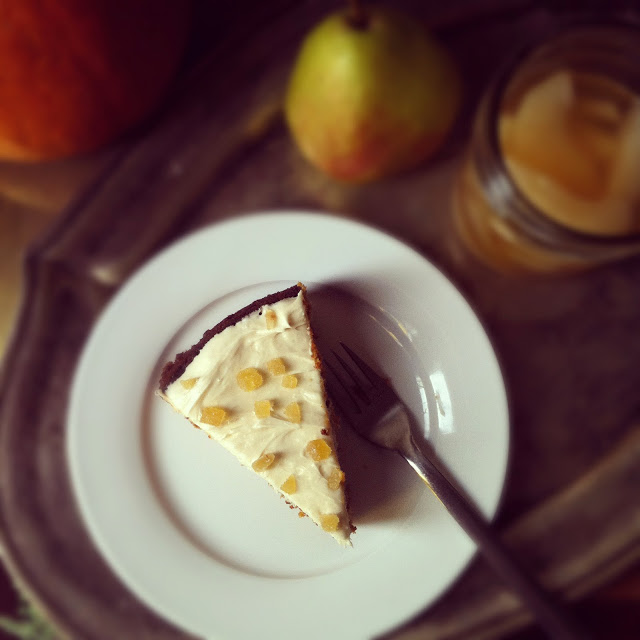 **the fine print: Hodgson Mill provided me with sample products in order to create this recipe. As a result of posting this recipe with their product, I am entered into a contest with 49 other bloggers for prizes ranging from an iPad, to gift certificates, to Hodgson Mill products. The contest winners will be chosen by judges that Hodgson Mill selects. Hodgson Mill is providing the $25 prize pack to one reader here. As always, all opinions are my own.