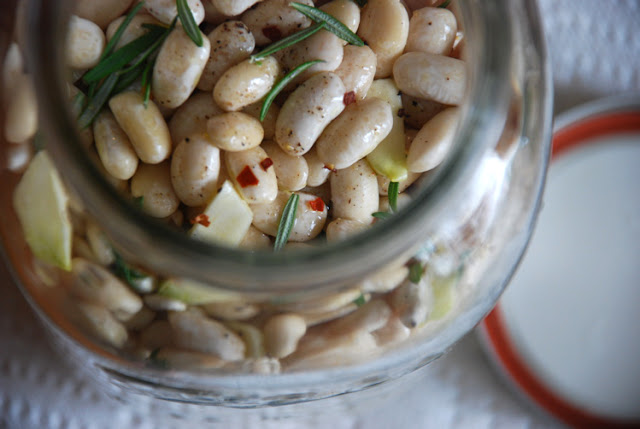 It was an accident, really, that cannellini in fiasco even entered my life. During the frantic pace of the holidays, between baking apple cakes and wrapping jam jars in pretty paper, I saw a chef on our local cable news station demonstrating his technique for these beans, cooked in a giant Ball jar.
Chef's closing statement before the commercial break, "These are the best beans you'll ever have. I guarantee it" is what lured me in.
Oh, but the luring happened after the demonstration, and I had only half payed attention to the technique. I was in the kitchen. The tv is in the living room. Not very far apart from one another in our tiny farmhouse, but not close enough that I was riveted to it. I had seen a water bath. I saw the Ball jar. I knew there were beans involved.
Not just any beans, either. No. These were the best beans you'll ever have. 
I am already a bean-lover, as you may know from my waxing poetic about Brockton beans. The best beans you'll ever have? The promise of such delight had to be realized.
Research commenced.
Cannellini in fiasco, I learned, originated in Italy, specifically in Tuscany, where the population is referred to as mangiafagioli – bean eaters. I asked a Tuscan friend whether this was considered derogatory, and as she explained, it's not, as this sobriquet was particularly true years ago when people living in the countryside had limited resources and beans were an inexpensive and readily available means to fill their bellies.
Fiasco, for those of us not well-versed in bulk Chianti production, are the straw-encased wine jugs in which the rough-and-tumble version of Chianti was delivered to the wine drinker (this all began to change in 1967, when standards for Chianti were improved, its reputation following a bit later, as the 1970s were still a time of many bad wines in fiasco, at least here in the U.S.).
Our hero beans, that staple of the Tuscan diet, were cooked stashed in an empty fiasco, each bean pushed through the opening of the wine bottle one at a time (can't you just about hear the "plunk, plunk, plunk" of beans hitting the bottom of the bottle?). Sage was added, a little garlic, then enough water was poured into the bottle in order to cover the beans, and, after a generous splash of olive oil, the fiasco was sealed and placed in the embers of the cooking fire. The beans slowly cooked overnight, and were available for all meals the next day.
To replicate that slow-cooking method in our modern kitchens, the sealed Ball jar in a water bath is the most accessible method. I'm sure that we're missing out on some smokiness that would be gained in the embers of a wood-fired cook stove, so if you're interested, and have not such a stove, you could always try the Maine-style bean hole.
For the sake of convenience, and because (so far) I only cook turkeys in holes in the ground, we're going to cover the Ball jar method here.
My first attempts at cannellini in fiasco were a bit lacking in flavor, so use your better judgement when seasoning your beans. The first couple of batches here had too little salt, no crushed red pepper flakes, and only a couple cloves of garlic. Also, we've used rosemary rather than sage, as we have a giant potted rosemary plant by the back door, and our sage plant is currently buried under a foot of snow. It may not be the authentic Tuscan approach to use rosemary, or to use so much garlic in your fagioli, but we're willing to take that chance.
The first batch of cannellini in fiaco were also a little too al dente for my taste, so I increased the cooking time from 1 hour to 2 hours after the water begins to gently simmer, which takes 40 to 45 minutes, so we're looking at nearly 3 hours of cooking time. You'll also want to bear in mind that you'll be soaking dry beans overnight (or for 6 to 8 hours) before starting the cooking process, so this is a 2-day process, or quite a long 1-day process. However, you will have seven cups of beans at your disposal once done, which seems like a pretty good reward for the effort.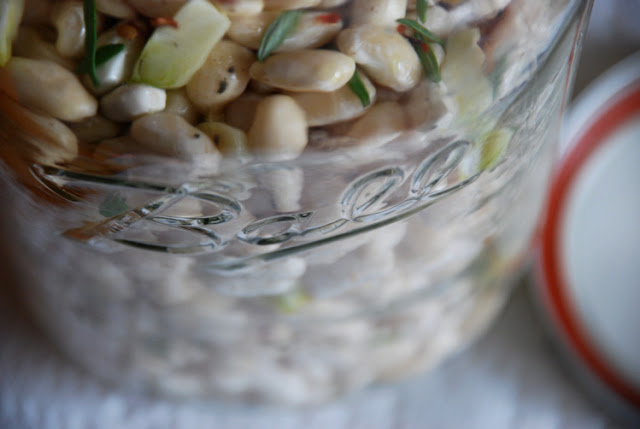 Cannellini in Fiasco: White Beans Cooked in a Ball Jar

Ingredients

16 ounces dry cannellini beans, rinsed, covered with enough water to allow for bean expansion and soaked overnight (or for 6-8 hours)*
1/4 cup good-quality olive oil
1 tablespoon rosemary leaves or 4 medium sage leaves, halved
8 medium cloves of garlic, quartered
1/4 teaspoon crushed red pepper flakes
kosher salt
freshly ground black pepper

Special equipment:

8-cup (1/2 gallon) capacity Ball jar, available here
an 8-quart (minimum) capacity stockpot (not so special, as you probably have one, but good to know it's needed before you get started, right?)

Instructions

Drain the soaked cannellini beans in a colander.
Working in layers, add approximately 1/8th of the beans (2 ounces) to the Ball jar. Toss in four garlic clove quarters, a pinch of crushed red pepper flakes, a pinch of salt, and a sprinkle of pepper. Drizzle a teaspoon or so of oil onto the beans and seasonings.
Repeat this layering until all of the beans are in the jar, then fill the jar with enough water to cover the beans (approximately 2 1/2 cups of water), then top with the remaining olive oil. Seal the jar, and place it in the stockpot.
Fill the stockpot with enough water to cover the Ball jar to just above the water line inside the jar. For our 8-quart stockpot, 6 quarts of water did the trick.
Bring the water to a gentle simmer over medium-high heat. As mentioned, this will take approximately 40 to 45 minutes.
Once the water bath is at a simmer, simmer gently for 2 hours, until the beans have expanded slightly, and when tested, the beans are al dente, firm, but easily bitten through.
Use caution opening the jar at the end of the cooking time, opening very slowly and removing the lid so that steam escapes away from exposed skin so as to avoid burns.
Stir the beans in the jar, then spoon them onto your plate immediately, or refrigerate them and use them in soups and stews, to make white bean dip, or reheated later for a side dish. Cooked beans will keep up to a week in the Ball jar (or other airtight container) in the refrigerator.

http://www.tinyfarmhouse.com/2013/02/cannellini-in-fiasco-white-beans-cooked-in-a-ball-jar/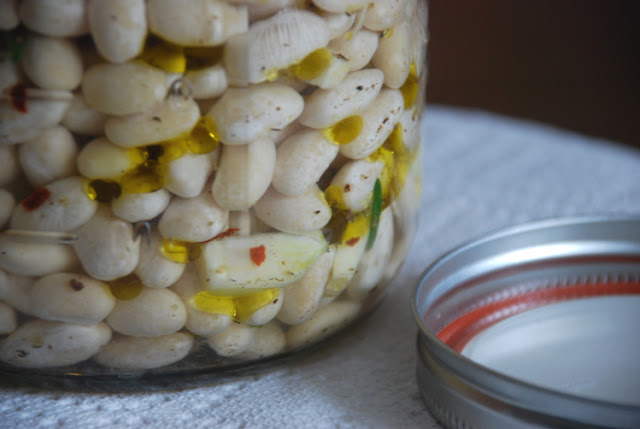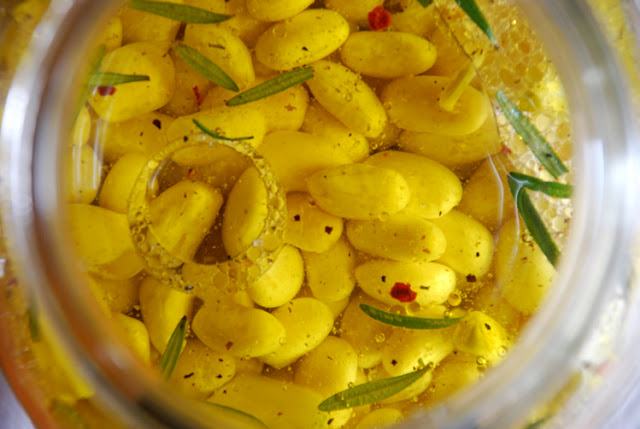 *I've used both Whole Foods 365 Everyday Value dried beans and beans from Seed Savers Exchange, both with good results.