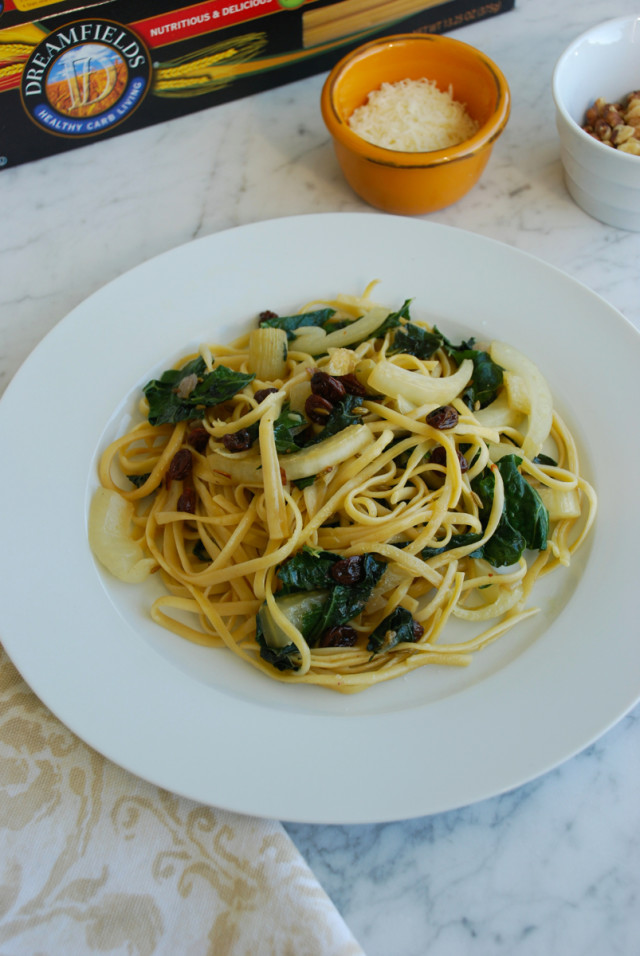 This giveaway is now closed. Congratulations to Janet Faye who won the selection of seven Dreamfields pasta cuts and a $25 gift card! Thank you to everyone who entered – it was fun to read all of your favorite pasta dishes!
Coming from a family whose nearly every meal felt the very strong influence of my Italian-American nana's cuisine (made by her at her restaurant – the best restaurant in the world – at that time, in my opinion – totally unbiased, of course.), it should be expected that pasta figures rather prominently in our diet, even now that I've learned that there are other sauce options beyond marinara, and not all chicken needs to be pounded thin, breaded, and topped with cheese.
Not that chicken parm is a bad thing, and chicken parm alla Nana is still my favorite comfort food dish, but we try to be a little more health-conscious here these days, eating more whole grains (you know this, I know. I am beating that whole grains drum loudly of late, aren't I?), eating better quality meat (though this may not be everyone's favorite thing to discuss, we know just how our pigs are treated and just what they're fed and feel good about eating pork that we've raised ourselves), and, of course, eating more vegetable-centric meals on a regular basis. Even though we raise our own pork, we also grow a lot of vegetables, and we love veggies. It's all about balance, right?
Despite wanting to use more whole grains in our diet, the process of finding a good whole wheat pasta had been a little challenging. There were nights when JR would request, kind of loudly (and with a groan), to not have whole wheat pasta – it was gummy, the texture wasn't quite right, it didn't taste good – "not normal" was his most common comment.
Lucky for us, we found ourselves some Dreamfields and were able to preserve the pasta peace: I can't live without pasta, we need to eat more whole grains, JR can't eat not-normal pasta, and Dreamfields takes care of all of these needs (ahem, demands). It tastes really good – and JR's favorite cut, linguine, is now all the rage here. Bonus for me (on top of having the loud requests for "regular" pasta eliminated), I'm stoked because each serving has 5 grams of fiber (yay fiber!) and 7 grams of protein. And the reason it tastes like "regular" pasta is because it's made with premium durum wheat semolina.
Once the pasta dilemma was solved, veggie-pasta night became so much easier. I adore roasted or grilled eggplant and tomatoes with pasta, am smitten with winter squash and pasta, and sautéed greens and pasta are fab together, though I have lately been obsessed with sautéed fennel. Obsessed.
Honestly, fennel needs more love. And no matter how trendy we all think kale is, it, too, needs to be better appreciated. I've said it before, and I'll say it again: If the humans really liked kale as much as they say they do, there wouldn't be so much of it in the compost that our local Whole Foods Market provides us for our pigs. Fennel is in the box of compost, too, but until my campaign to turn fennel into the new It vegetable commences (coming soon! coming soon!), not too many people are professing their love. And this is just so wrong.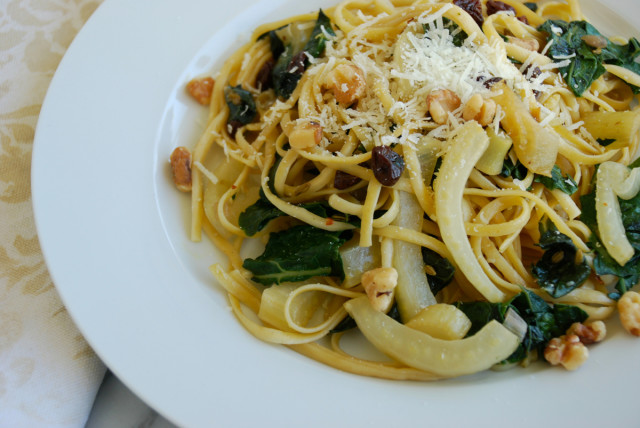 To celebrate National Pasta Month with Dreamfields, we've been eating this linguine with fennel and kale, one of 31 recipes that Dreamfields is sharing to show how a slew (31 = a slew in this case) of bloggers enjoy Dreamfields.
To see all those other healthful, satisfying recipes, visit Dreamfields' site, and follow the #IHeartDreamfields tag on Twitter, Facebook, Instagram, and Pinterest.
To add to the #IHeartDreamfields love, they are so very kindly giving one lucky tiny farmhouse reader a pack of all 7 of their pasta cuts plus a $25 gift card. You can try JR's favorite cut, linguine, my favorite (though I don't get to have it as often as I'd like, given the linguine mandate) penne rigate, elbows (mac & cheese!), spaghetti (meatballs! Of any type, including lentils or other legumes!), angel hair (garlicky marinara!), rotini (pasta salad!), and lasagna (um, yep – lasagna!).
To enter, do any (or all) of the following. Each counts as one entry:
Tell me your favorite pasta meal or pasta type in the comments below.
Tweet to me and to Dreamfields about your favorite pasta meal or pasta cut – you know I like to give a suggested tweet, so here goes: "Hey @healthypasta & @poorgirlgourmet! I love ___ pasta! #IHeartDreamfields"
The contest runs through October 31, 2014 at 11:59pm EST. The winner will be selected in a random drawing, and will be notified by the email address used to leave the comment.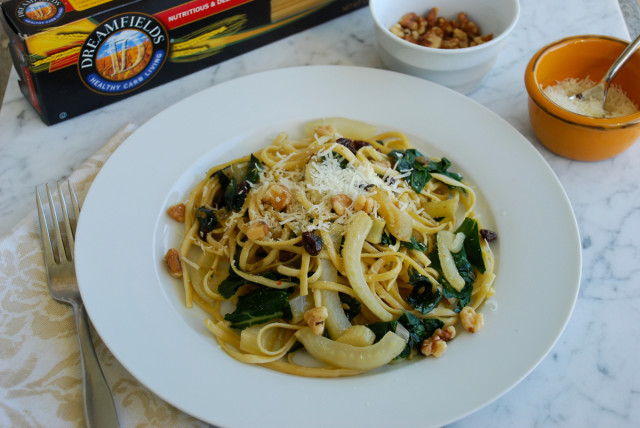 Linguine with Fennel and Kale + a Dreamfields giveaway
Ingredients
8 ounces Dreamfields Linguine, prepared according to package direction
2 tablespoons olive oil
1 medium shallot, peeled, trimmed, finely chopped
1 pound fennel (2 medium bulbs or 1 large bulb, approximately 3 cups sliced), washed, trimmed, sliced in half lengthwise, then sliced crosswise into ¼-inch half-rounds
1 teaspoon fennel seed
1/8 teaspoon crushed red pepper flakes
1 medium bunch Lacinato kale (approximately 8 ounces/4 cups sliced), washed, trimmed of woody stems, sliced crosswise into 1-inch wide ribbons
1/4 cup seedless raisins, plumped in warm water
1/2 cup reserved pasta-cooking water
Kosher salt
Freshly ground black pepper
1/4 cup chopped toasted walnuts
1 tablespoon grated Pecorino-Romano cheese per serving
Instructions
Prepare the pasta according to the package directions.
Heat the oil in a large sauté or frying pan over medium heat. Add the shallot, fennel, fennel seed, and crushed red pepper flakes and sauté until the fennel has softened and is becoming translucent, 7 to 8 minutes,
Add the kale and raisins to the sauté pan and cook, stirring frequently, until the kale has wilted and is bright green, 5 to 6 minutes.
Reserve ½ cup of the pasta cooking water and add to the sauté pan.
Transfer the linguine to the sauté pan, stir well and cook for 1 to 2 minutes before serving, then season with salt and pepper.
Serve ¼ of the pasta and vegetables per person, and top each serving with 1 tablespoon toasted walnuts and 1 tablespoon grated Pecorino-Romano cheese.
Notes
Nutrition information (1/4 of recipe): 390 calories; 14 g protein; 62 g total carbohydrates; 14 g total fat; 1.5 g saturated fat; less than 5 mg cholesterol; 110 mg sodium; 11 g total dietary fiber.
to speed up total time, start the pasta water then prep the vegetables for a savings of about 10 minutes, total time of 30 minutes.
http://www.tinyfarmhouse.com/2014/10/linguine-with-fennel-and-kale-a-dreamfields-giveaway/
The fine print: this post is sponsored by Dreamfields, and I've been compensated for my work on this post and have received a couple of free boxes of linguine (lucky me & lucky JR!). As always, all opinions are my own.