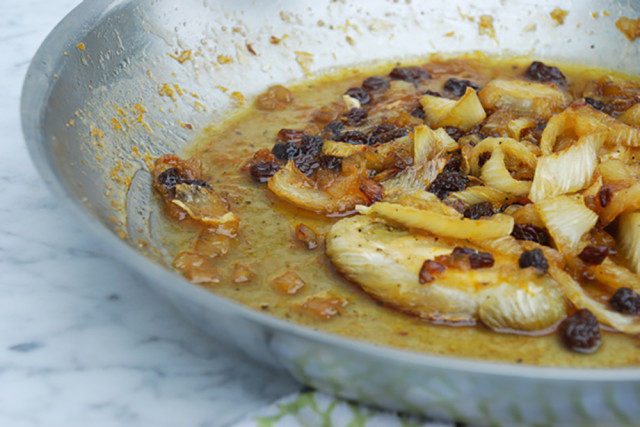 Our local grocery store is kind enough to donate their vegetable and fruit scraps to us as a supplement to our pigs' diet.
If the pigs' weekly loot is any indication, fennel is not a terribly popular vegetable, which is unfortunate, as it is one of my favorites, and I believe it is deserving of so much more love. From humans. Pigs seem to love it without needing even the slightest bit of convincing, but humans, humans are a different story.
In addition to making for a good side dish for Thanksgiving, this dish can be used as a topping for focaccia or flatbread pizza (with goat cheese and pine nuts it's quite tasty), is lovely tossed with Israeli cous cous, quinoa, or farro, and also serves well as a bed for roasted or grilled pork (oops – sorry, pigs!) and chicken.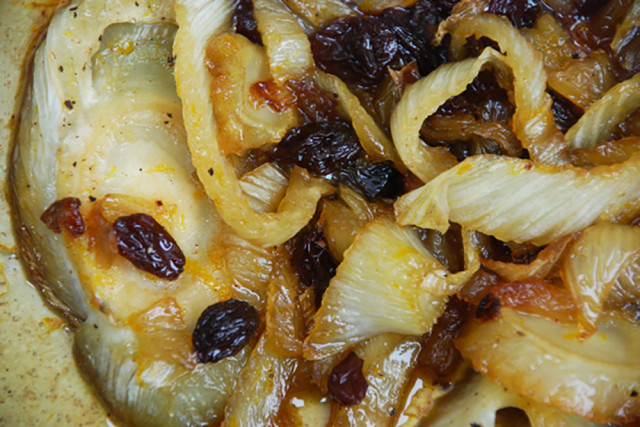 Caramelized Fennel with Orange
Ingredients
4 tablespoons unsalted butter
1 tablespoons extra virgin olive oil
2 large fennel bulbs (approximately 2 pounds), fronds and root-end trimmed, bulb sliced crosswise into ¼-inch rounds
3 tablespoons turbinado sugar
the zest and juice of 1 navel orange (approximately 3 tablespoons of juice)
2 tablespoons raisins, soaked in warm water for 10 minutes, then drained
kosher salt
freshly ground black pepper
Instructions
Heat the butter and oil in a large sauté pan over medium heat, then add the fennel slices and sauté until the fennel is soft and translucent, 13 to 15 minutes.
Sprinkle the sugar over the fennel in the pan, stir well, and sauté until the sugar begins to caramelize, 5 to 7 minutes.
Add the orange juice and zest to the fennel, toss the raisins into the pan, stir well, then simmer for 2 to 3 minutes until the sauce has thickened slightly. Season with salt and pepper, and serve it forth.
http://www.tinyfarmhouse.com/2015/11/caramelized-fennel-with-orange/