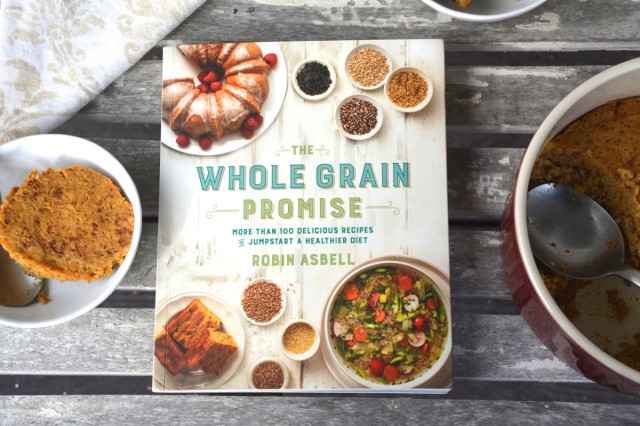 This giveaway is now closed. Congratulations to Heather, Diane, and Tracy, who all won a copy of the fabulous book The Whole Grain Promise.
full disclosure: I was provided a complimentary copy of The Whole Grain Promise: More Than 100 Recipes to Jumpstart a Healthier Diet by its publisher, Running Press. As always, all opinions are my own.
It is that pumpkin pie (and pumpkin spice) time of year, and, lucky for us, some of our pumpkin choices can actually be healthy. Three cheers for healthy pumpkin-spiced foods!
Case in point, this super-easy to prepare Pumpkin Pie-Baked Steel Cut Oats dish from Robin Asbell's new cookbook, The Whole Grain Promise. It tastes just like pumpkin pie, complete with that lovely custardy texture, yet it also has a hearty serving of steel cut oats buried within. Pretty much perfect for holiday brunch, or even just for getting your pumpkin spice fix before, during, and after the holidays.
Toast the oats while you mix together all of the other ingredients, and you'll be done with prep in roughly 15 minutes. In another 50 to 55 minutes, the oats will be done baking. Turns out, 50 to 55 minutes is about how long it takes me to get my coffee made and drank, with a little time left over for coffee maker clean-up.
So yeah, I am a little slow in the morning, but what I'm trying to impress upon you is that for just a wee bit of active time to prep this dish, you'll be able to enjoy pumpkin-y oats before you know it, and leftovers keep for up to a week in the refrigerator. Added bonus, the recipe is easily halved (if you prefer not to have leftovers).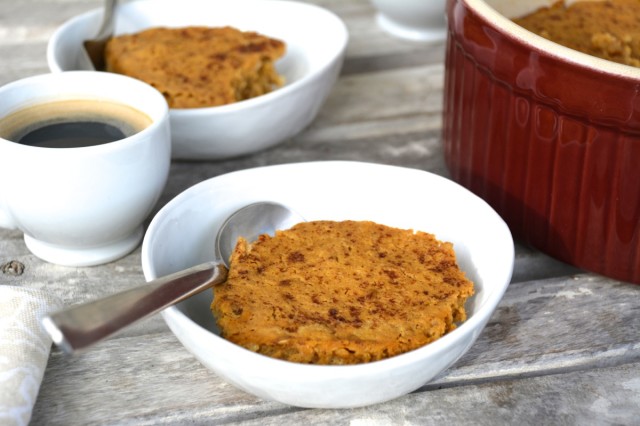 These oats are just the beginning of the fabulousness of this book. Robin covers a lot of ground in a friendly, approachable way, from tips on how to save money when cooking with whole grains (you know I like that!), to stealth incorporation of whole grains in our diets, to the health benefits of whole grains. There is so much helpful information about grains – purchasing, preparation, storage, almost any question you can think of - it's all covered here.
And the recipes. There are so many wonderful recipes. Here is just a small sampling of some that jumped out at me: Lemon-Strawberry Quinoa Breakfast Salad (I can't wait for spring so that I can make this with fresh strawberries), Millet-Corn Chowder with Chipotle, Italian Farro and White Bean Salad with Asparagus, Cheddar-Chive Cornbread (yeah. I want this right now.), Leftover Grain Scallion Cakes with Curry Ketchup (love that Robin is tackling leftovers in this book, too!), Savory Streusel Squash Pie with Oat Crust (sounds like a luxurious Thanksgiving side dish to me!), Lime Fish Cakes with Brown Rice and Dipping Sauce, Peanut Butter Cake with Chocolate Frosting, and Cherry Cheesecake Bars with Extra Graham Crunch.
To reiterate, those are just a few of the very many that jumped out at me. So much good food here.
Very generously, Robin and her publisher, Running Press, have agreed to provide one lucky Tiny Farmhouse reader with a copy of The Whole Grain Promise: More Than 100 Recipes to Jumpstart a Healthier Diet.
The giveaway will be open from November 7, 2015 through Saturday, November 14, 2015 at midnight EST.
The winner will be announced on Sunday, November 15, 2015.
The giveaway is open to residents of the United States only.
Each of the following will count as an entry. To enter:
Please leave a comment on this post with your favorite whole grain ingredient and/or dish. If you feel compelled, share why it's your favorite in the comment.
Follow Robin: @robinasbell and me: @poorgirlgourmet on Twitter, and leave a comment on this post to let us know that you did so.
Tweet us both about your favorite whole grain ingredient and/or dish using the hashtag #wholegrainpromise. Perhaps a little something like: Hey @robinasbell and @poorgirlgourmet, my favorite whole grain is farro! #wholegrainpromise
The giveaway will be determined by a random drawing.
I will contact the winner via the comments section here, email, or Twitter, and will post the winner's name here as well.
The winner will have until Wednesday, November 18, 2015 at 12pm EST to reply.
If the winner does not reply by then, they will have forfeited the prize (sad!), and another name will be drawn.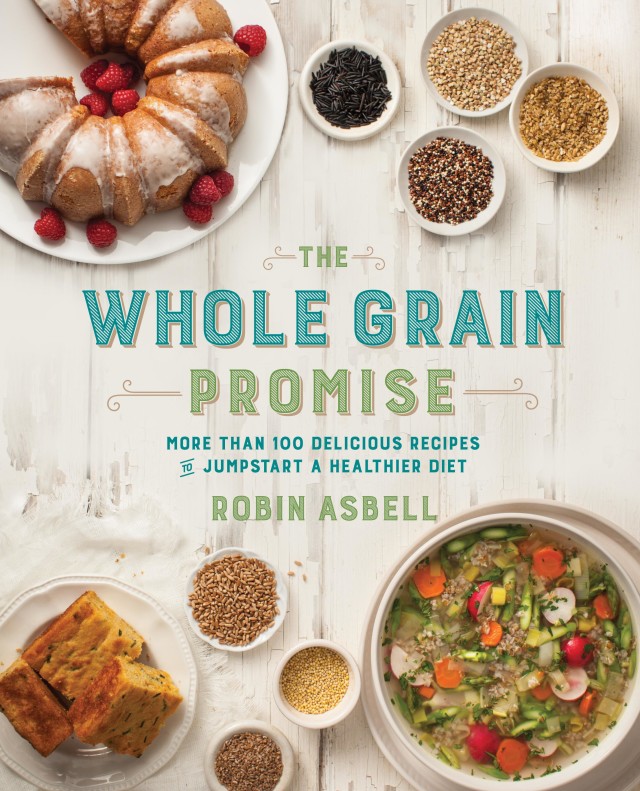 Reprinted with Permission from The Whole Grain Promise: More Than 100 Recipes to Jumpstart a Healthier Diet, Running Press
Pumpkin Pie Baked Steel Cut Oats
Ingredients
1 ½ cups steel cut oats
1 cup pumpkin purée
2 large eggs, whisked
½ cup maple syrup
1 teaspoon ground cinnamon
½ teaspoon ground cloves
¼ teaspoon ground nutmeg
½ teaspoon salt
1 cup milk
1 ½ cups warm water
1 teaspoon vanilla
Instructions
Preheat the oven to 375°F.
Butter a 2-quart casserole with a lid.
In a small saucepan, toast the steel cut oats over medium high heat, swirling the pan until they smell toasty. Take off the heat.
In a large bowl, mash the pumpkin purée and beat in the eggs, maple syrup, cinnamon, cloves, nutmeg, and salt. Whisk in the milk, water, and vanilla, then stir in the toasted oats.
Scrape into the prepared casserole, smooth the top, and put the lid on the casserole.
Bake for 50 to 55 minutes.
If you shake the pan it will jiggle but be set in the middle.
Take off the lid and let cool for 10 minutes before serving.
Notes
This keeps for 1 week, tightly covered, in the refrigerator.
http://www.tinyfarmhouse.com/2015/11/pumpkin-pie-baked-steel-cut-oats-from-the-whole-grain-promise-more-than-100-recipes-to-jumpstart-a-healthier-diet-a-giveaway/