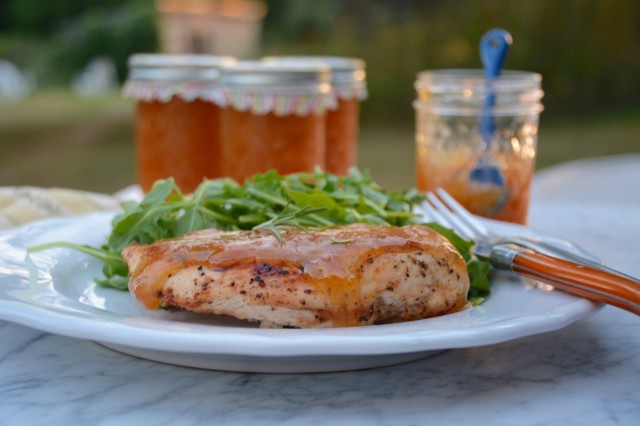 Summer is the season of tending to the garden during the cool, early morning, long afternoons on the beach, warm evenings on the front porch. Summer is also most definitely the time to start preserving the harvest, whether from our own backyard or from the farm we discovered on our weekend drive. 
Lucky for us, tomorrow isn't just another glorious summer Friday, it's a glorious summer Friday that also happens to be Can-It-Forward Day, a day designed to help us learn (or learn more) about canning, while also helping others.
From 10am until 3:30pm eastern time on Friday, July 22, join Ball Canning on
Facebook Live
where they'll be sharing tips, recipes – never before shared online, like Apricot-Lavender Jam, Chipotle-Peach Salsa, and Green Tomato Pickles – and recipe and canning demonstrations.
For every like, share, comment, or reaction, Ball will donate $1 to a small, local charity selected by the very canning bloggers who will be sharing their expertise with us all. The charities are all food focused, donating food to those in need. What's not to love? We get helped with our canning skills, and then, by asking a question, liking a post, or sharing a photo of our own canning creations, we help others in need.
Ball was kind enough to share their brand new (as the name indicates) All New Ball Book of Canning and Preserving with me, and after much earmarking of recipes, I settled on making Peach-Rosemary Jam first. It's easy to make, goes well with shrimp, chicken, and pork, and includes JR's favorite herb.
But this was not a no-brainer, there are SO many tempting recipes to choose from. I think my beer-loving brothers will receive some Citrus-Wheat Beer Jelly at the holidays, my friends with children may get Pomegranate-Cherry Jelly to fancy up their PB&Js, and I'll celebrate my love of fennel and oranges together with a batch of Pickled Fennel with Oranges. Just for starters.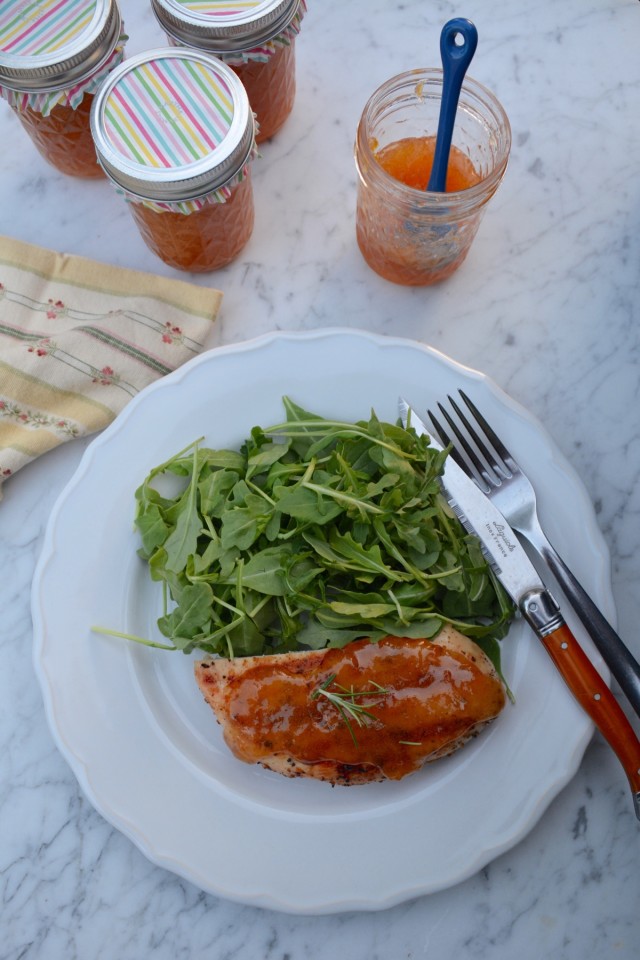 Peach-Rosemary Jam for Can-it-Forward Day with Ball Canning
Ingredients
2 1/2 pounds fresh peaches (approximately 5 large peaches)
1 teaspoon lime zest
6 tablespoons Ball Classic Pectin
1/4 cup freshly squeezed lime juice (from approximately 3 limes)
(2) 4-inch rosemary sprigs
5 cups granulated sugar
Instructions
Peel the peaches with a vegetable peeler. Remove the pits, and coarsely chop the flesh. Mash with a potato masher until evenly crushed. Measure 4 cups crushed peaches into a 6-quart stainless steel or enameled Dutch oven.
Stir in the lime zest, pectin, lime juice, and rosemary sprigs.
Over high heat, bring the peach mixture to a full rolling boil that cannot be stirred down. You'll be stirring constantly, so you'll know when you can't keep the boil down by stirring. Once the peach mixture can't be stirred down while boiling, boil for 1 minute.
Add the sugar, stirring well to dissolve. Return the mixture to a full rolling boil. Boil for 1 minute, stirring constantly. Remove from the heat, remove and discard the rosemary. Skim any foam on the top of the jam if necessary.
Ladle the hot jam into a hot jar, leaving 1/4-inch headspace. Remove any air bubbles. Wipe the jar rim clean, then center the lid on the jar. Apply the band, and adjust until it is secure, but not tightly sealed. Place the jar in boiling-water canner. Repeat until all jars are filled.
Process the jars for 10 minutes, adjusting for altitude if necessary. Turn off heat, remove lid, and let jars stand 5 minutes. Remove the jars and cool.
Notes
To aid in removal of the rosemary at the end of the cooking time, you can bundle the sprigs in cheesecloth and tie with butcher's twine.
http://www.tinyfarmhouse.com/2016/07/peach-rosemary-jam-for-can-it-forward-day-with-ball-canning/
Be sure to
take the pledge
to join Ball on
Facebook
for Can-It-Forward Day, get inspired, get tips, then help them give to charity, and plan who you'll give your canned goods to (or at least SOME of your canned goods).
Find out more about Can-It-Forward Day
here
.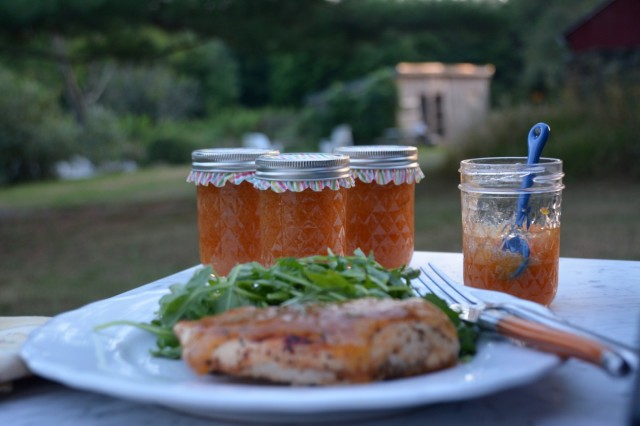 Disclaimer: I know that you know that I'm a long-time canner, so I am thrilled to promote Ball's Can-It-Forward Day in any way I can. Ball did provide me with a copy of their new canning book, The All New Ball Book of Canning and Preserving, and a $5 coupon toward the purchase of Ball jars. As always, all opinions are my own.