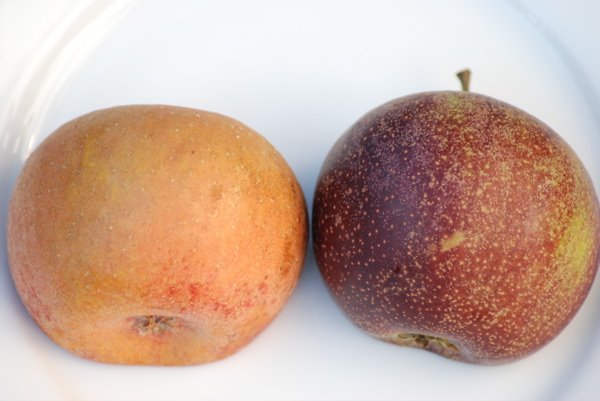 It sounds like a crazy 1800′s mystery title, doesn't it? Stop the presses! Ashmead's Kernel Found in Vermont! Ah, don't get too excited, I didn't find a priceless gold nugget (which wouldn't be called "kernel", now then, would it?) nor a lone, obscure popping corn kernel in Vermont. What I did find was an amazing heirloom variety apple. Yes. Ashmead's Kernel (that's it on the left in the photo above).
Now, before I get into how you absolutely, positively MUST buy and eat an Ashmead's Kernel apple should you ever chance upon one, I have to tell you a little bit about how the weekend unfolded. At just about the same time my sister was being introduced to Tom Brady – yes, that Tom Brady – at an event in Boston, I was sitting in the, now, what would we call that? Middle gun? Not shotgun, that's for sure. And not in the driver's seat either. No, I was sitting in the middle "seat" of JR's pickup truck between he and his brother; both of whom are 6′ 2″. Hey, how tall is Tom Brady? Oh, right, 6′ 4″. Thank goodness he wasn't in the truck, too. That would be way too crowded. So I spent Friday night sitting as upright as if I had a ruler taped to my spine in the middle seat with my knees all but in the dash and my feet perpendicular to my knees for the entire five hour ride to Vermont.
People, this is not normally a five hour ride, but on Friday night, we sat in traffic as we waited to get by an accident in the right lane of 495 (no accident visible) and then a car fire one hundred feet in front of our exit (car fire quite visible). We had been on the road over two hours when we finally exited 495, and when we arrived at my brother-in-law's house in Vermont, I was quite happy that I had pre-roasted the butternut squash for the squash and sausage pasta meal. We ate around 10:30pm, drank copiously, and arose the next morning, unrested and a bit hungover, but ready to get to the tasks at hand: turkey hole digging and fruit wine purchasing.
With coffee helping to roust us from our stupor, JR and I took a ride to Putney to visit the Putney Mountain Winery. We tasted a sampling of their production and then purchased their Apple Maple, Cranberry, and Cassis wines in the name of this blog. I will be diligent in my efforts to taste each and every one and report back to you with notes. I'm doing this for you, you know.
Upon leaving the winery, we drove through Saxtons River, and stopped at the Saxtons River General Store for lunch items. We picked up some Grafton Cheddar, a Jack Cheese from West River Creamery of Londonderry, Vermont; and pepperoni and summer sausage from Vermont Smoke and Cure. About a month ago, I wrote about Vermont Smoke and Cure's bacon, which JR characterizes as "tasting like maple syrup". I, for one, am a dip-the-bacon-in-the-maple-syrup kind of gal myself, so this is a rousing endorsement for bacon as far as I'm concerned. In fact, I am planning to make a Vermont Smoke and Cure bacon ice cream (yes. for real.) the next time I get my hands on some. In the meantime, if you ever find yourself face-to-face with any Vermont Smoke and Cure product, you must buy it. The pepperoni was chewy and just hot enough, and the summer sausage was like bologna for adults. I don't mean mortadella, which is in a class unto itself, I mean the bologna of your youth, but such that you would actually eat it as an adult. Those Vermont Smoke and Cure people really know what they're doing with that smoking and curing business.
We had gathered up all of these items, and were about to cash out when I spotted a dull-skinned, dark purplish looking apple, Black Oxford, which, I later learned is a cold-climate apple that seems to have originated in Maine. It's highly recommended as an overwinter apple (meaning it will keep well in cold storage), and has a very balanced sweet and tart flavor, which, according to my source, improves the longer it is kept.
In a box next to the Black Oxfords was a box of Ashmead's Kernel apples. There was a description of the apple taped above the box, with a brief history (originated in England), a seeming apology for its physical appearance (long before shiny apples were in vogue, there was Ashmead's Kernel) and the line that piqued my curiosity was, "this is not an apple for everyone. Even once it mellows, it has a distinctly tart taste." I grabbed one of the Ashmead's Kernel and one of the Black Oxford and tossed them into the pile of meat and cheese at the cash register.
As he picked up the Ashmead's Kernel, the man at the register said, "oh, this one's been selling like crazy. I have to get more. In fact, I just had somebody buy one and then come right back in for 3 more."
Back at my brother-in-law's, we unpacked and devoured the cheese and meat snacks, leaving these two dull apples neglected as JR and Trip were about to go outside to dig the hole for our turkey-in-a-hole-in-the-ground Thanksgiving. "Hey," I said to JR, "don't you want to try the apples?" He's rather used to humoring me, so he stayed behind for a minute while I cut into the Black Oxford. It was well-balanced, with a thick skin, but it wasn't terribly exciting, as apples go. Then I doled out a few slices of the Ashmead's Kernel. Holy smokes, people, if you were a fan of Jolly Rancher candies in your youth, you really must seek out this apple. It starts out sweet and then quickly becomes extremely tart. Your taste buds will be so startled that if you had this for breakfast, you might not require a coffee. I know, a bold statement, and one I feel confident making. But be warned, if you don't like tart, you will not like this apple. JR took one bite and put it down, "Nope. Nope. Not doing it for me," he said.
"It's too tart, right?"
"Yep."
He then proceeded to go outside to Trip's studio and nearly cut off the top of his thumb with a band saw while making me Vermont soapstone ice cubes like the ones I had seen in this month's La Cucina Italiana.
Trip dug the turkey hole by himself, JR got bandaged up, and on Sunday, we all rode back together with me in the Middle gun. By the time we were back home, I had picked up JR's cold, my back was jammed up, JR's thumb was throbbing, and Trip's back and arms were killing him from all that digging. I did manage to make apple cake and a butternut squash lasagna after arriving home, however, even sickly and contorted as I was. Tomorrow, I will share the recipe for said lasagna with you – it's a great make-ahead meal, and, of course, is not very expensive at all.
Finding Ashmead's Kernel:
Dinner tonight: chicken with mushroom gravy and mashed potatoes. Estimated cost for two: $7.51. I still have one 99-cent per pound whole chicken, which cost $5.05. The mushrooms cost $3.90 for two packages. I'll use one cup of onion, let's call that 50-cents (not Fiddy-cent). Broth is $2.19, the wine I'm using is leftover from when my friends Anne and Mike visited. That's like a donation to my dinner cause as far as I'm concerned. I'll use two slices of bacon, which we'll call $1.00, and the thyme is free from the garden. That covers the chicken and gravy, which, if you are feeding more than four – unless a few of the more-than-four are wee people – you'll need to add additional chicken, so I'm saying that this dish costs $12.64 for 4 servings. To get to our grand total, add the mashed potatoes, which consists of potatoes for 57 cents and butter for 62 cents (I use potato cooking water, rather than milk, to moisten the mash), now you're at $7.51 for two. Tomorrow, I'll take the leftovers and make an actual pastry dough (rather than a mashed potato topping) and make a chicken-mushroom pie.
Ok, I have to run now, my sandwich bread dough is done with its 30-minute refrigeration stage and has to be formed and moved into a greased loaf pan for its final rise so that I can get it baked and a couple slices made into a sandwich for JR's lunch before I go to bed.