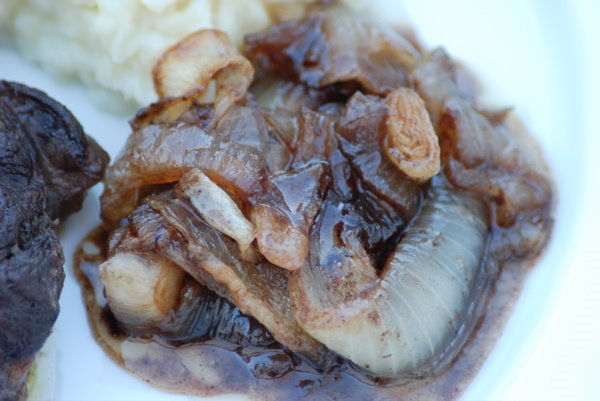 In the neighborhood where JR lived as a child, there was a family that he insists ate caramelized onions at dinner every night. This makes me believe that they must have also eaten either beef or pork every night as well as caramelized onions best complement meaty dishes – you wouldn't normally think of having caramelized onions with cod, after all – so perhaps caramelized onions were their budget concession in order that they could afford meat with such regularity. Or perhaps JR only imagined that they enjoyed caramelized onions each and every day. And I can see why he might dream that dream, for, in addition to going well with meat, caramelized onions elevate the humble onion to a sublime comestible. One which happens to top off mashed potatoes rather nicely, to boot, which is of infinite value if you are a meat-and-potatoes lover.
Ingredients
2 pounds onions - roughly 4 medium onions, peeled and sliced across the grain into 1/4 inch pieces such that you end up with rings
1 stick unsalted butter
1/4 cup sugar
3 tablespoons balsamic vinegar
Salt and pepper
Instructions
In a large saute or fry pan, melt the butter over medium heat. Add the pile of onions and cook over medium heat until onions are softened and translucent, stirring constantly. This could take up to 20 minutes as you have quite a few onion rings here. Not to worry, they will shrink considerably as they cook.
Once the onions are softened and translucent, sprinkle the sugar over the entire surface of the onions, and stir to combine. Cook until the sugar begins to caramelize. If you haven't previously caramelized sugar, this is a fun process to watch unfold. I know that the first time I did it, I said, "hey, wow, it's making caramel!" Yeah. Clearly the "caramelized" in the description didn't clarify it nearly enough for me. In any case, the sugar and butter will combine to become caramel. The mixture will bubble and turn a golden brown. Once it is golden brown, add the vinegar and stir to combine. Allow to cook for 2 to 3 minutes more to meld flavors. Salt and pepper to taste, and serve them up alongside something meaty. But be sure to alternate with other vegetables from night to night. Even though these are addictive, you need some greens in your diet as well.
http://www.tinyfarmhouse.com/2009/01/sweet-caramelized-bliss/
Caramelized onions also happen to be quite versatile – think toppings for pizza, salad, focaccia bread, an addition to a frittata – and, as mentioned once or twice above, as a side dish for meats – and have I mentioned their affinity for mashed potatoes?
As described here, this side dish costs $3.10 for four servings. The onions should be the least expensive you can find – there's no need to spend your money on sweet onions for this as the onions will be made sweet by caramelizing. I bought a two-pound bag of yellow onions at Whole Foods for $1.65. The butter is 1/4 of a package that costs $2.79, so that's 70-cents. The balsamic is not the fancy-schmancy aged balsamic, it is the more common type found in every grocery store and was $7.99 for a bottle containing 33 tablespoons. Break that down, and for three tablespoons, it costs 72-cents. And the magical sugar that creates the caramel was 3-cents.
Dinner tonight: People, check your sales fliers. This week, Maine shrimp is on sale at my local Whole Foods. Thus, we are having Shrimp with Broccoli and Linguine in a Garlicy-Lemon Sauce. Estimated cost for two: $6.89. The shrimp were $3.99 per pound. These are not jumbo shrimp and they are going to require me to peel and de-vein them myself, but we haven't had shrimp in a very long time, and so I am quite happy to clean them up. We only need a half-pound for this dish, so that's $2.00. The garlic will be around 15-cents, the shallot will cost 25-cents. The lemon is $1.20 at 60-cents each. The butter for the dish is 35-cents, the olive oil is 33-cents. I'm using both oil and butter so that the butter keeps from burning as it cooks. It's a trick you can use yourself. That's why I share. The linguine is half of a one-pound box that cost $1.99, so that's $1.00. The broccoli cost $1.61 for just over 3/4-pound. I suppose we could use less than the entire head of broccoli, but for the sake of rounding up, we'll just leave it at that. So we get to have a seafood meal for less than $7.00. Not too shabby. Beef and shrimp all in the same week? Sweet.