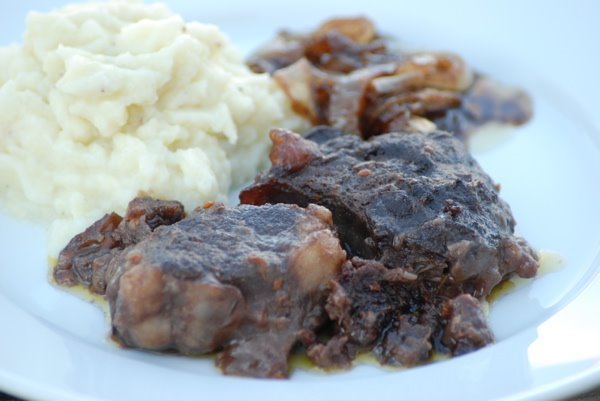 Yeah. I do. That's right. And I tell anyone who will listen why I'm there.
Frequently, when I'm making a dish that calls for wine, I use leftover wine that I had purchased to drink. This causes me to think of the wine in the dish as "free" in terms of the overall tally for making the meal, but not everyone keeps wine in the house, and some of those who do don't have leftovers. I'm not judging, it's just what I understand based on the wisecracks I hear when certain celebrity-types tell us, via chain emails – which I am all but certain they didn't actually draft – how to preserve leftover wine for future cooking use. The punchline, of course, is "what leftover wine?!"
In my ongoing quest to be absolutely certain that when I'm pricing these dishes, I'm accounting for what would actually be spent on all the ingredients, I took a mid-morning trip to the liquor store. Now there's a good time of day to be seen loading up on wine. Be confident that I roundly announced my mission repeatedly, "I'm just here for cooking wine. Yup. Cooking wine. That's what I'm here for." At 10 a.m., thank you very much. Now, I still think that the little four-packs of wine with the screw caps are a good deal for when you need a small amount of wine, say a cup or so. But for the dish I'm going to lay out below, you need 2 cups of wine. One 750ml bottle of wine is roughly equivalent to 3 cups, which is convenient for us, as we can avoid measuring the wine by just pouring out two-thirds of the bottle into the pot, and that seems like an economy of time, albeit a small one. I wanted to be sure there was a good option for the wine that was palatable to our pocketbooks as well as our taste buds, so my mission was to find wine for five dollars and under. Here is a helpful hint. Just as the international section of your supermarket likely has good deals on spices and beans, wine-producing countries that are less-touted than the big players like France and Italy will garner you big bargains. I found a bottle of Portuguese red table wine for $3.99, which I will be using in beef stew this weekend during our umpteenth snow storm of the barely month-old winter. I also found some Slovenian Cabernet and Pinot Grigio for five dollars a bottle. As previously mentioned, I kept announcing my reason for my morning liquor store visit, so the man at the cash register responded to my "cooking wine, cooking wine, cooking wine" mantra saying that when people come in and say they're going to cook with the wine, they advise them to buy an inexpensive bottle, such as Gallo burgundy for five dollars. "If they use a twenty-dollar bottle, they're cooking all of the flavor out, so they're not benefiting from it," he went on to say. So lest you be concerned when you read directives such as, "be sure to use a wine you would drink" in your cookbooks, they aren't asking for you to dump an expensive bottle in the stew, they (whoever the collective they may be) are trying to reinforce that we should buy wine meant for drinking. Not a product labeled "Cooking Wine" on a supermarket shelf. So go ahead, buy the least expensive wine-intended-for-drinking you can find and make yourself some beef shanks. Which, at $2.99 per pound at my local market, make for an incredibly inexpensive beefy meal. In light of that, perhaps you want to splurge on a ten- or eleven-dollar bottle of wine to go with it.
Who goes to the wine store at 10am?
Ingredients
(4) 3/4 pound beef shanks
Salt and pepper
3-4 tablespoons olive oil
1 medium onion, diced
1 stalk celery, diced
1 carrot, peeled and diced
1 clove garlic, chopped
1 tablespoon Dijon mustard
1 tablespoon prepared horseradish (such as Gold's. By prepared, I mean already shredded as opposed to buying the horseradish root itself)
1 tablespoon thyme
3 tablespoons all-purpose flour
2 cups dry red wine
3 cups beef broth
Instructions
Salt and pepper the shanks.
In a dutch oven or large, deep pot that has a lid, heat oil over medium-high heat until the oil is shimmering. Add the shanks, working in batches if necessary not to crowd them. Cook until browned on each side, approximately 3 minutes per side. Remove from pan and place on a plate.
Reduce heat to medium. Add additional oil if necessary to coat the bottom of the pan. Add onion, celery, carrot, and garlic and cook until onion is translucent and vegetables have softened, approximately 5-7 minutes. Add mustard, horseradish, and thyme, and stir to combine with vegetables, cook for one minute. Add the flour, sprinkling it over the entire surface of the pan. Stir flour into vegetables and cook, stirring constantly, until flour is cooked, approximately 3 minutes. Add the red wine, scraping up any brown bits from the bottom of the pan. Simmer for one minute, then add the broth, and allow to simmer for 5 minutes to blend flavors. Return the shanks to the pan in one layer with liquid almost to the top of the shanks. If there is not enough liquid, add more broth until it is almost to the top of the shanks. Bring to a gentle simmer - not a boil - cover, and cook for 2 hours, or until the meat falls off the bone, turning the shanks every half-hour to insure even cooking.
When you plate the shanks, top the meat with some of the red wine gravy and serve away.
http://www.tinyfarmhouse.com/2009/01/who-goes-to-the-wine-store-at-10am/
What's so nice about this dish, aside from the fact that each shank will cost you around $2.25, is that it is a little fancier than beef stew. You could actually serve this to guests and not feel like you need to be watching the Superbowl. We had it with caramelized onions and mashed potatoes, and while that made for a very brown and white meal – perhaps you'd prefer oven-roasted carrots instead of the onions to mix up the color palette – it was very satisfying and beefy. And we all need a little beefiness once in a while. Particularly when we're on a budget.
Dinner tonight: The end of the Ribollita (Tuscan bean and vegetable soup). See, you have to have a few trade-offs. Beef shanks one night, beans and veggies the next. Not that I'm taking anything away from the beans and vegetables, because it is one hearty soup. But it's not beefy. And so, it is much less expensive than the beef. Estimated cost for two: $2.96. The beans were around $1.00 in the bulk section at Whole Foods, which is a quarter less than what I paid for beans the week before at the Providence Winter Farmers Market. The celery, onion, and two carrots were no more than a dollar. The leeks were $1.75. The garlic was 12-cents if you consider it was less than a quarter of the 50-cent head of garlic. The can of tomatoes was $1.67. I did buy bread because it was so darned good the last time, so we'll use about a quarter of a loaf that cost $3.39. That's 85-cents. The bread is toasted, then rubbed with garlic and placed at the bottom of the bowl of soup to make one bad-ass garlicky crouton. The cavolo nero, or dinosaur kale, was $2.49. This recipe yields 6 servings at a cost of $8.88, for a grand total of $1.48 per person. No, you are not having deja vu. You have seen this all before. For we just had it a few days ago. Hey, but it's still a bargain at $1.48 per serving, wouldn't you agree?