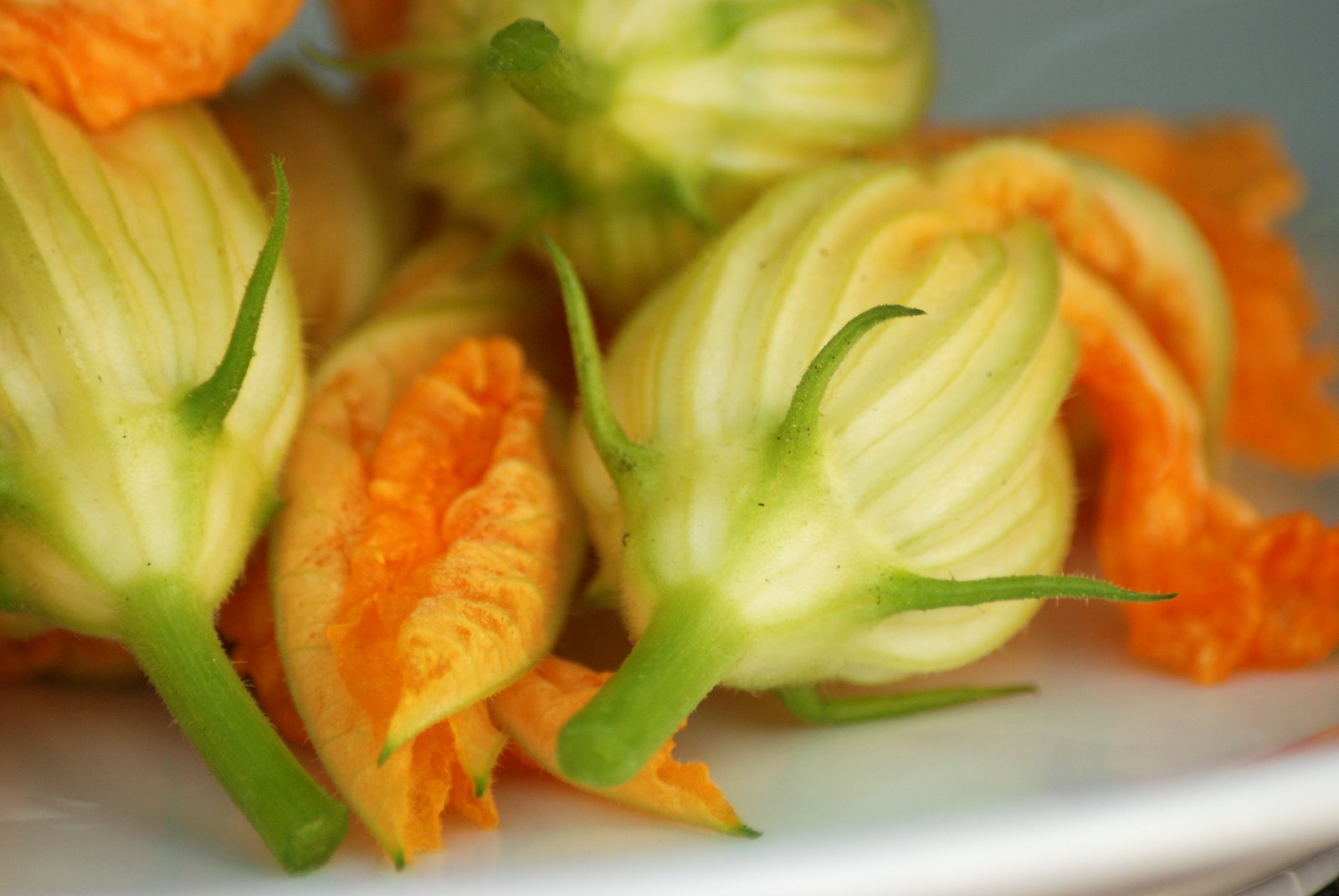 Or zucchini blossoms, to be precise. You may recall my obsession with squash bugs – the one where I envision myself, dressed as Death, wielding not a spectre, but my bare thumb- and fore-fingernails – effective tools as any in this crusade. Yes, my vigilantism has paid off, for we have enjoyed many stuffed zucchini blossoms, though now, the evolution of garden pests has begun. The squash bugs, they seem in check – sure, they turn up now and again on my zucchini plants, and they do tuck themselves into the flowers of the cucumbers – but my daily severed-bug head count has decreased greatly in the last couple of weeks.
And so, now must arise a new threat. Or two.
Slugs are the first. And while the laying hens love to see the humans in the garden – it's a sure sign of slug-snacks about to be lobbed over the fence into their run – the humans do not love the feel of dozens of slugs in the palm of their hands. More precisely, this human does not at all enjoy the feel of those slugs slinking over one another in the palm of her hand. Yet, there are – by my most conservative of estimates – thousands, perhaps hundreds of thousands, even millions – of them in all corners of the garden – on the lettuce, in the peas, on the potatoes, even on my beloved zucchini plants. And, I'm warning you, don't even begin to look for them on day lilies or iris – I can assure you, there are more than you would ever want to know about lurking there. Probably billions.
While slugs are perhaps the most disgusting garden menace I can fathom, the latest pest arrival in the garden is the most disconcerting. Despite the presence of a plant-green – for discreetly we protect our flora – tiny-hole wire fence lining the entire perimeter of the split-rail fence – split rail for aesthetics, wire for protection – last night, while JR and I resigned – oh, all in the name of research – ourselves to yet another night of "tasting" wine for the wine chapter of my book – a young and quite spry cotton-tailed rabbit entered the garden from the middle – lo, where no gate exists – and made haste to the edge of my radicchio plantings. Brazenly, it began to nibble on the greens, all while keeping an eye – only one available on that side of its body, of course – on me as I approached, slowly at first, then more quickly, and finally, menacingly enough for it to run in the opposite direction nearly into JR's lap as he sat in his chair, sipping Salice Salentino, or Cotes du Ventoux, or Orvieto, whichever wine it might have been. Not so concerned with wine as we, the bunny made its way back to the middle of the garden and retreated through the torn wire that he and his friends had so diligently gnawed through.
Oh, these rabbits are smart. This is not the first time they have chomped their way through our wire fence. They seek out spots hidden by growth on both the interior and exterior, and it is only their greed that gives them away. All of the other animals here – okay, the chickens and the dog – know that the humans sit in the garden from six until eight each evening, but the rabbits cannot adhere to this schedule of avoidance. When they want lettuce, they want lettuce, and this is their undoing.
Out of yellow wire ties – these were the only ones on hand, and this was, of course, an emergency – we fashioned a patch to this newly destroyed section of fence. It matches the larger patch just a fence-post length away. And if I were a betting woman – do scratch tickets count? – I would put my money on another patch or two before summer's end. So long as JR and I are able to muster enough to feed ourselves, we all should be able to coexist. Except, of course, for the slugs. And the squash bugs. But, then, we've been over that.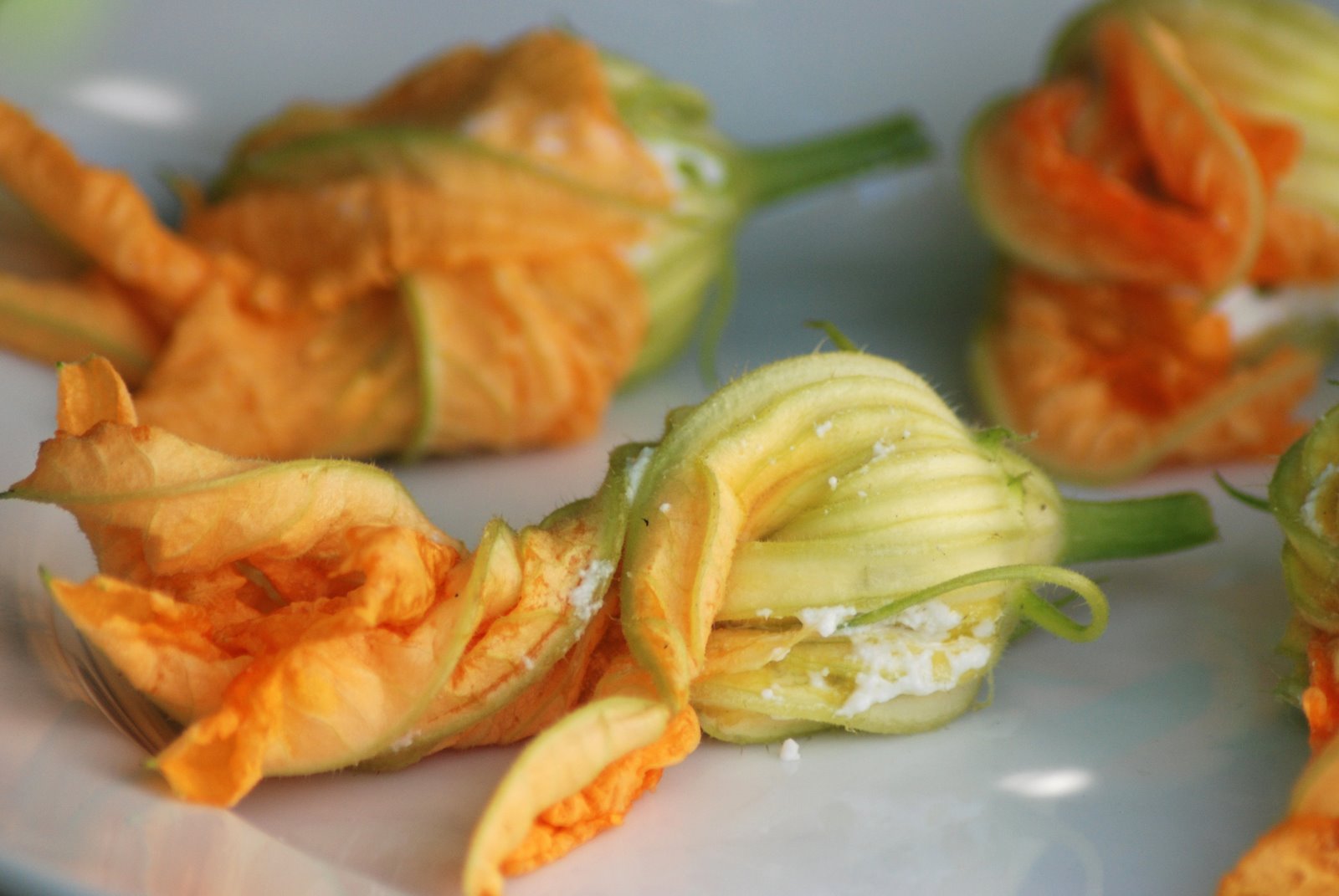 Deep Fried Stuffed Squash Blossoms
Ingredients
6 male zucchini blossoms - the ones with the long stems and no fruit, with long stems attached
The stems of those same 6 male zucchini blossoms (You will need to cut off all but the 1/4-inch of stem attached to the flower, and chop the cut stems finely. Discard any tough portions of the stems.)
2 tablespoons extra virgin olive oil
1/2 medium shallot, chopped
6 tablespoons fresh ricotta cheese, such as Narragansett Creamery's ricotta
1 egg, lightly beaten
1/4 cup flour
kosher salt
freshly ground black pepper
vegetable oil for frying
Instructions
If the blossoms are coming from your garden, it's best to pick them before noon when the flowers are wide open and are therefore easier to check for the dastardly squash bug, and, it is also easier to remove the pistil when they are open. Be sure to be careful not to annoy the pollinators in your garden when picking, they're quite active while the flowers are open.
Heat the oil in a small saucepan over medium heat. Add the shallot and zucchini blossom stems and saute until the shallot is translucent and the mixture is becoming aromatic, 3 to 5 minutes. Remove from heat and allow to cool.
Combine the shallot-stem mixture with the fresh ricotta. Salt and pepper to taste. Working ever so carefully - the blossoms are quite delicate, you know - stuff them with the ricotta mixture. I use an espresso spoon and my fingers to place and tuck the mixture within. If you tear the blossom, not to worry, simply cover the cheese as best you can. Gently twist the petals over themselves to form a seal.
Place the flour in a shallow bowl or on a plate and season with salt and pepper. First, dip the blossoms in the egg, allow any excess egg to drip off, and then dredge in the flour.
Fill a large, deep pot with 2 inches of vegetable oil. Heat the oil to 350 degrees. Working in batches of two, add the zucchini blossoms and fry until golden brown, flipping them midway through cooking. It will take 3 to 4 minutes per side. Once the blossoms are golden brown, place them on a plate lined with paper towels to drain excess oil, ask everyone to be patient - these bad boys are hot - and then serve them forth.
http://www.tinyfarmhouse.com/2009/07/deep-fried-stuffed-squash-blossoms/
Dinner tonight: Tomato Tart and Garden Lettuce Salad. Estimated cost for two: $5.46. The tart recipe is for the book, and costs a whopping $8.67 for the entire pie. We will eat 1/2 of the pie tonight – and boy, is that crust ever filling – and will have what lettuce we are able to salvage from the jaws of the menacing cottontail rabbit for a quick salad to accompany the tart. The lettuce that is in the garden now was all started from seed, and, in fact, this particular lettuce from 10-year old seed (I don't recommend this, but I got lucky) from Monticello, Thomas Jefferson's home in Virginia. In any case, adjusted for inflation, I think the seeds still cost about a penny per plant, but I'll throw in a dollar to cover actual purchasing of lettuce as you would likely use about a half of a head of lettuce that can be had for $1.99. We will drizzle with olive oil, so we'll add another 12-cents in to cover a tablespoon – 1 1/2 teaspoons each.