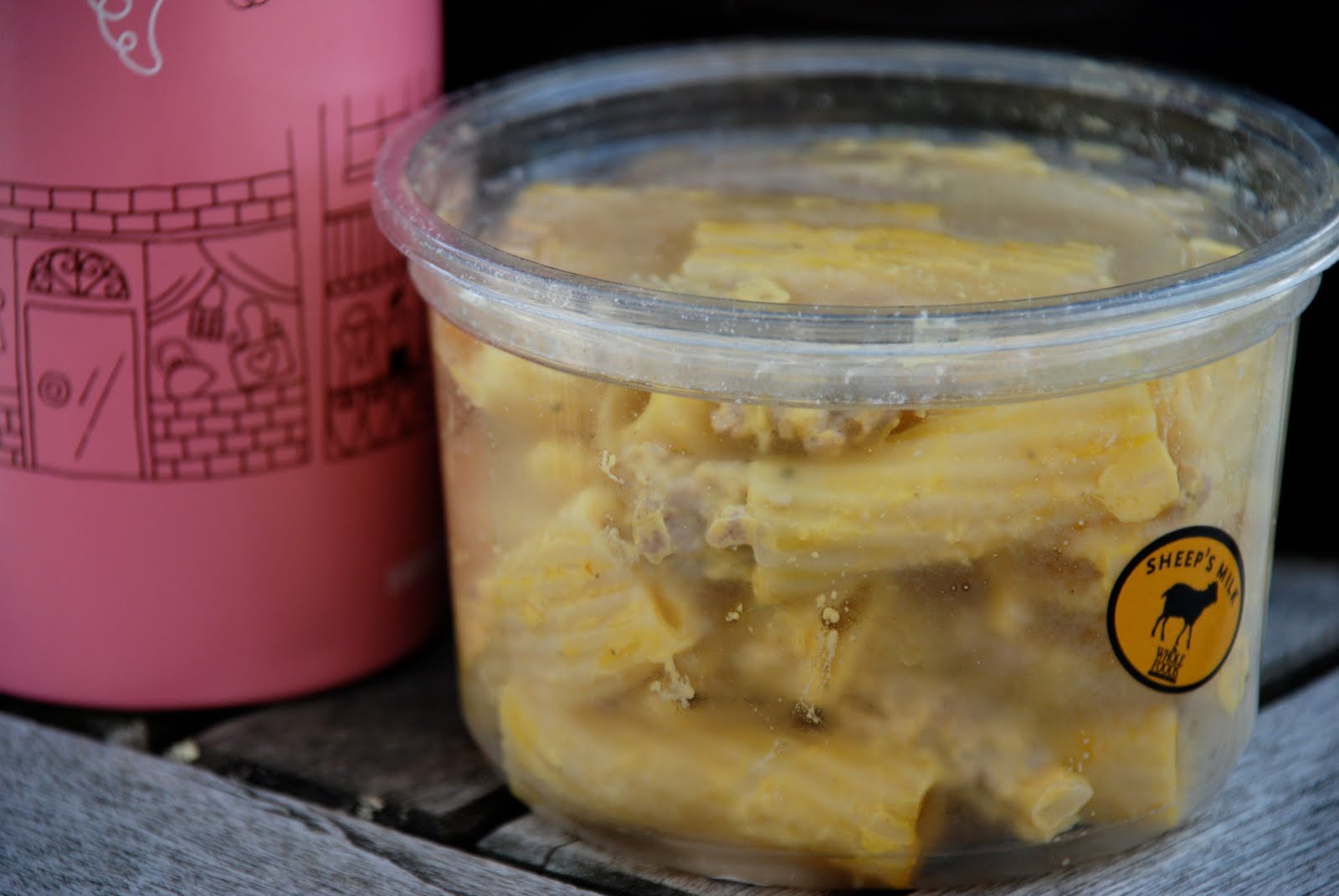 There's an odd thing going on in my world lately, and it's called "working off-site". As it happens, working off-site means getting back to packing a lunch each day, a practice I had always undertaken when I worked off-site in the past. Even, in fact, when I was consistently getting paid. So it wasn't an economic, or purely economic, motivation for bringing my own lunch.
Instead, back then (which sometimes feels like the very distant past), I brown-bagged it solely for the reason that I wanted to know that my lunch would be good. Good, and satisfying. Early in my career, I had suffered (and you know it's suffering – for real – if you love food and any meal ends up stinking) through plenty of disappointing take-out lunches, so toting along a caprese salad and crusty bread became salvation from uncertainty and likely lunchtime food sadness.
A few months ago, I discussed this very brown-bag propensity with Garen and Louise over at Frugal Yankee during their radio show. Here are a few things we discussed:
Pack it up:
Okay, we've gone over the quality motivation – to avoid lunchtime disappointment and possible afternoon grumpiness, it makes sense to brown-bag it, but bringing your lunch also saves money (you knew that, right?). Frequently on this here blog, you'll read about JR bringing leftovers to work for lunch (and now, I'll be taking them along as well), and when homemade meals cost in the $4 or less (frequently less at our house) range per serving, you still beat any five-dollar meal deal any day. Add to that, you know what's in the food you're eating. Bonus! No additives, preservatives, or red dye number 5 if you don't add 'em in.
But how to tote those leftovers along?:
If you work in an office with a refrigerator available for your food, the next tip is for you, but if you're out and about – on the road, making client calls, or a contractor on a job site – you'll need a cooler to keep your food at a safe storage temperature. For you fashion forward folks, I like built ny's insulated lunch totes, and if you aren't quite as concerned about style, these inexpensive totes will do the trick.
And what about thirst?:
For many years, I was known to carry around a plastic bottle of spring water – recycling it, of course, both in use (one bottle per week or two, with washings), and in its final (for me) destination at my local recycling center. However, with age comes wisdom, and now we're learning the real impact on our environment of those plastic bottles that aren't recycled. For that reason (oh, yeah, and the economic one, too), I've cancelled my water delivery service, and now use a Sigg water bottle, filled with water from the tap. As it happens, the Sigg bottle cost me around $20 – a one-time investment – but my monthly water delivery bill had been around $48. Not a terribly difficult choice to make when you add personal economics to the overall environmental concerns. You can also use a Sigg bottle for carbonated beverages and fruit drinks, so you can buy those items in economical larger-than-single-serving sizes, further helping you to save some dinero.
Hello, what about coffee?:
I know that Garen over at Frugal Yankee uses a thermos-type bottle for his beverages, and here at our house, both JR and I make our coffee at home, JR carrying his in a thermos as well. For anywhere from $11 to $15 for a bag of beans – from which you'll yield up to forty 6-ounce cups – or somewhere in the 40-cents per cup range, you can support a local or small business, and still save yourself some money over ordering a double mocha soy latte on the road.
Reuse, recycle:
For those of you with an office refrigerator at your disposal, a small paper shopping bag or gift bag can take the place of a lunch tote or cooler. Simply stash the bags away as you acquire them, and use them until they will tote no more. Personally, I like coated-paper bags, like Sephora's, which I tend to get once a year during a make-up emergency (yes, there can be such a thing as a make-up emergency). Twice, I've been able to use those Sephora bags for a half a year of lunch-carrying. I also save resealable plastic containers from the grocery store and use those instead of purchasing containers. Just wash 'em out, and off you go – they're like new, and no different than containers you'd have spent money to buy.
If not leftovers, then plan ahead:
One of JR's childhood friends ate chicken salad most every day for lunch. It seems that Mom would roast up a few birds on Sunday – one for dinner, the others for the express purpose of making family lunches. Chicken is one of the least expensive forms of meat available to us, so for, say, $10 (figuring $1.49/pound for a 3-pound bird) plus the cost of mayonnaise and seasonings, you've got somewhere in the range of 6 to 8 servings of chicken salad. If we estimate that the mayo and seasonings brought our total to $11, our salad cost us $1.83 per serving for 6 servings. Add in a day-old roll (yes, day old – go squeeze them, they're usually still soft. And if they aren't, squeeze until you find ones that are.) for 50-cents, and you're doing pretty well at $2.33 for a sandwich made just how you like it. Not too shabby.
Did someone say "inexpensive protein"?:
Yes, Yes, I did. Chicken, eggs, and bacon are all inexpensive forms of protein. Make a frittata or an egg salad sandwich for just a couple of bucks, or perhaps a BLT if you aren't feeling the chicken salad or leftovers love. And even if you grow weary of chicken salad, for the cost of a head of lettuce and some dressing (either homemade or a single-serving sized container that you ask your ordering-from-a-restaurant colleagues to snag for you, perhaps?), you have a pretty healthful lunch. Or go the salsa, beans, and tortilla route, which gives you another good pre-cooked chicken option.
You can listen to Garen, Louise, and me chatting lunches here.
Of course, everyone has their own methods to save on work-a-day lunches, so what do you do to keep lunchtime spending in check?
Oh, and tomorrow, both JR and I are having pulled pork shoulder, white bean, roasted fennel and carrot stew for lunch. I haven't priced it out in full, but I figure we're at $2.25, maybe $2.50, per serving. The pork shoulder was on sale for $1.99/pound at Whole Foods, we had it for dinner last night, cooked in milk with fennel fronds and onions, then served with sweet potato-bacon cakes, roasted carrots, honeyed creme fraiche, raisins, and toasted pine nuts – it might sound fancy, but with the meat for that meal costing less than two bucks, sweet potatoes costing around a buck, and the carrots costing around 80-cents, the base of the meal is less than $4.00. I'll test that meal next weekend and then post it up with proper costs. If you're wondering, it was ridiculously good. I love that pork shoulder – what a great, flavorful cut of meat it is.
Dinner tonight: Vanilla-Clementine Chocolate Chip Ice Cream. Honestly, I'm not sure what's for dinner tonight just yet, so focused have I been on getting food prepped for the work week – including pre-prepping some of our weeknight dinner ingredients. So, I'm not sure at all what we'll eat for dinner (a gross oversight on my part, though there is always ziti with red sauce to fall back upon), but I do know that I have to get going on making the Vanilla-Clementine Ice Cream with Chocolate Chips if we're going to have that after whatever-it-is-for-dinner. Estimated cost for two servings (from at least 8 servings total): $2.59. The eggs are, very happily for us, coming from our formerly deadbeat hens. The hens have just started laying eggs again, which is a sure sign that winter is coming to a close – granted, a long, drawn-out close, but a close nonetheless – for us here in New England. So, for me, they are free, but for anyone else, they'd cost no more than $1.04 for 4. The sugar will cost around 6-cents. The cream costs $2.99. The vanilla bean cost around $4.50. The clementines will run me around $1.25, and the chocolate chips will be about 50-cents. The total for what will be a quart or so of ice cream is $10.34, which is a little more expensive than buying a quart at the supermarket, of course, but versus going out and buying a couple scoops for each of us, it's a win. Oh, and I don't know any shop near us that's stocking Vanilla-Clementine Chocolate Chip ice cream. So there's that.