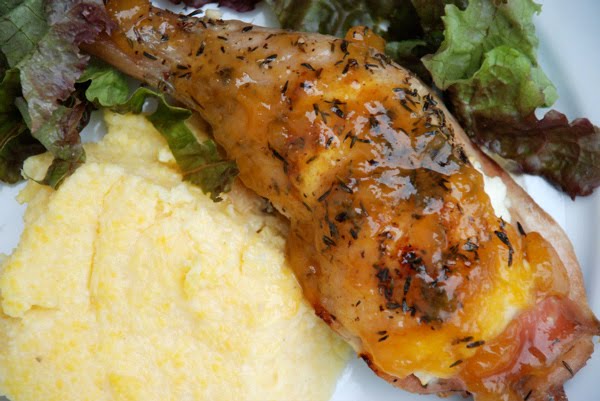 This post could just as likely have been entitled, "Holy Crap, There's a Recipe in This Here Post" for the lack of recipes posted here of late. I apologize for the drought. And if you've seen me in person at book stores and such, you've probably heard me apologize in person.
In response to this in-person apology (ahem, lament) at a recent book signing, a friend of mine said, "You do have new recipes. They're all in your book." Yes, true, true, but I also have new recipes that simply haven't made it to the blog for lack of time. Fortunately, that's all about to change, as Operation Make Some Money is coming to a close so that I can focus on book promotion, the blog, and writing. Maybe even teaching some classes. I'm thinking classes. I still have to Make Some Money, after all.
In any case, you can tell I've been working lately. And it's not just the dearth of blog posts that gives it away. It's the fancy/spendy chicken legs featured right here in this post. Fancy and spendy because of the distraction with which I've been shopping lately. Almost as if I'm not following my own how-to-eat-well-on-a-budget advice. Almost.
A couple of weeks ago, during a particularly hectic weekend of book promotion, I stopped at Whole Foods late on Sunday afternoon to snag chicken legs for this here dish. Now, normally, I'd know better and double check the price, but on this particular Sunday? Not so much. So I paid $2.09 per pound rather than the $1.29 per pound I'd come to expect from the pre-packaged chicken leg cooler. That'll teach me.
The $2.09 price jacks these legs up into overly pricey territory in my mind, but they can be done for less, and they are delicious, so I figured I'd share just the same.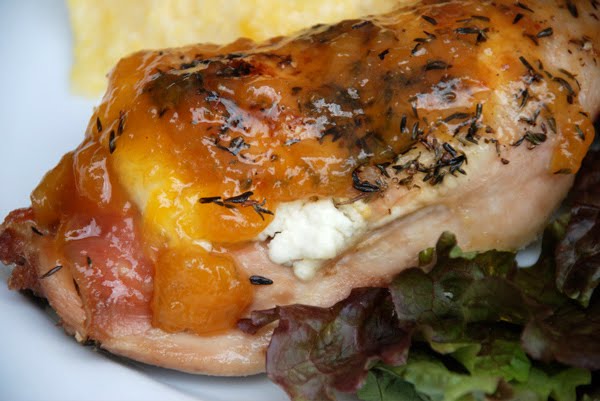 Fancy Goat Cheese-Stuffed Chicken Legs with Peach-Lavender Glaze
Ingredients
4 chicken legs, approximately 1/2 pound each
4 ounces goat cheese, softened
1 1/2 teaspoons extra virgin olive oil
1/2 teaspoon dried thyme or 1 1/2 teaspoons fresh
kosher salt
freshly ground black pepper
1/4 cup peach preserves, such as Sunchowder's Emporia peach-lavender jam
1 tablespoon water
Instructions
Preheat the oven to 375 degrees Fahrenheit.
Meanwhile, back over at the counter, gather together a large rectangular baking dish (such as your trusty lasagna pan or the like) and your chicken legs. Gently pull the skin away from the meat at the wide end of each leg, then divide the goat cheese into 4 more-or-less equal parts, and place the cheese under the skin, gently spreading the cheese out over the surface of the meat. I do this by pressing down on the skin to spread the cheese over the thigh area.
Place the cheese-stuffed chicken legs into the baking dish, skin-side up, then coat the skin with the olive oil. Season with the salt and pepper, then toss the thyme over top of the legs, and into the oven they go. And within the oven they will stay for 55 to 60 minutes, until they are golden brown and when pierced with a fork, clear liquid runs from them.
About 50 minutes into the cooking time, combine the preserves and water in a small saucepan over medium heat. Stir until the water is incorporated into the preserves, such that you have a spreadable yet thick glaze.
Once the legs are out of the oven, dole out one-quarter of the glaze onto each of the legs and serve them forth. We've had them with lettuce from the garden and also (on a separate occasion) with honey-balsamic caramelized greens (kale, chard, spinach) from the garden (very similar to the caramelized beet greens in the Poor Girl Gourmet cookbook) and polenta. The caramelized greens night was rainy and cold, the lettuce night was a scorcher. We sat outside while the legs cooked on the scorcher night, as you might imagine.
http://www.tinyfarmhouse.com/2010/06/fancy-goat-cheese-stuffed-chicken-legs-with-peach-lavender-glaze/
Estimated cost for four chicken legs: $11.81 when you don't look at the price of chicken legs, $10.21 when you do. So definitely a bit fancy-slash-splurge-y. As previously mentioned, I bought 6 chicken legs at $2.09 per pound in one Whole Foods, and a week later, bought 4 chicken legs for $1.29 per pound at another Whole Foods. I'll go with $2.09 just to be safe, but sheesh, now. So let's call that $4.20 for 4 chicken legs. The goat cheese was from Vermont Butter and Cheese Company and cost $3.99 for 4 ounces. The oil costs us 6-cents. The thyme will run us somewhere around 6-cents. The jam could be homemade, or grocery-store bought, but I was feeling fancy (have I said "fancy" enough?) and used some of the delicious Sunchowder's Emporia peach-lavender jam so that JR and I could feel tres provencal. The jam is very reasonably priced at $4.00 for 4 ounces (homemade and clearly so, btw). I used half of that, and with shipping (because it was shipped here, after all), it cost $3.50. I'm going to start a campaign to get this jam into my local stores so that I can skip the shipping costs, but in the meantime, we'll go ahead and factor it all in. So you know that you can shave one stinking dollar and sixty stinking cents off of the total by actually looking (ahem, unlike some budget-challenged blogger lady who should know better) at the price and buying the $1.29 per pound legs. Of course, if you don't have your jam shipped in, you also save $1.50 on the shipping charge. I know, I know, it's not frugal to have things shipped in, but when I tell you those jams are delicious, I mean de. lish. ous.
Dinner tonight: Honey Marinated (On-Sale) Chicken Thighs with Homemade Honey-Peanut Sauce, Steamed Rice, and Zucchini from the Garden. Estimated cost for two: $5.42. We're going with the four-serving cost to start, as we'll both be having leftovers for lunch tomorrow. I'm nearly as excited about this leftover lunch as I was about the homemade tortilla, grilled steak tips, slow roasted tomato, black bean salsa, and avocado leftover lunch that was today's source of glee. The chicken thighs cost $2.96 for just less than 1 pound ($2.99 per pound, so not much less than 1 pound). The peanuts cost $2.29 for 16 ounces. I'll use 1 cup, which is 4 ounces, and will run me 57-cents. I'll use 1/4 cup of honey for the sauce, and used 1/4 cup of honey for the marinade, so that's $2.00. There's olive oil in both the marinade and the sauce, to the tune of 72-cents, and there is also some light coconut milk, I'll use half of a 13.5-ounce can and refrigerate the rest for when I make this again (thinking it needs to be posted soon, so it must be tested at least one more time – likely more – before that can happen). The can of light coconut milk cost $1.69, so half is 85-cents. I'll use a splash of soy sauce, so that runs us around 11-cents, figuring my splash is equal to one tablespoon. I bought a giant bunch of green onions at my favorite farm stand yesterday for $1.25. There are around 16 onions in there, and I'll use 4 in tonight's dinner, so that's around 8-cents each, or 32-cents total. The rice costs just less than 80-cents for 1 cup, and the zucchini is nearly free, as it comes from our garden, but if you were to buy it in-season (which it is now in Southeastern Massachusetts), it would be around $1.25 per pound, so let's figure $2.50 for 4 servings. The total for 4 servings is $10.83, or $2.71 per serving.