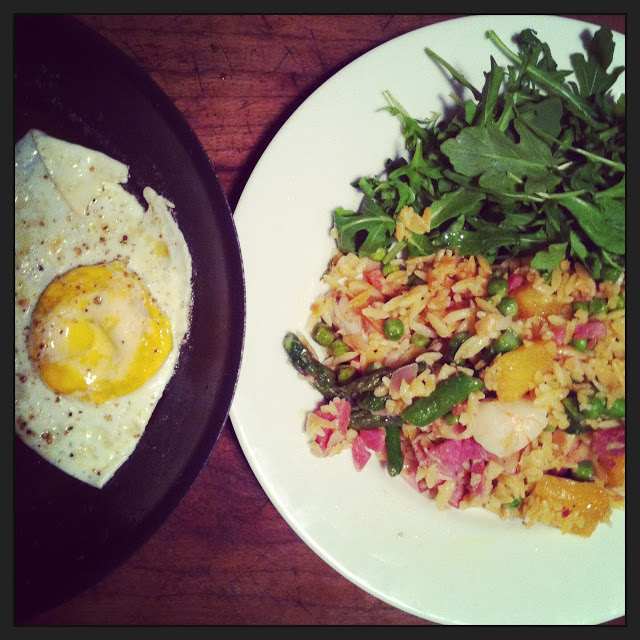 With more than 20 people at our house for Easter, we're guaranteed a lot of laughs – and a lot of leftovers.
It can be difficult to gauge how much everyone will eat – Uncle Fred and JR might not be in the mood for ham, and there may be fewer lamb-eaters among us than there were last year when we decimated 2 legs. Yet it's not a good party if you don't have enough options for everyone to eat what they please.
With a couple of pounds of lamb remaining, and about as much ham, we'll be eating leftovers from the big feast all this week – possibly into next – starting with this stir fry made from leftover ham and orzo salad with asparagus and peas.
The orzo salad was made without goat cheese to serve as a vegan dish, and the orange juice in the dressing adds to the stir fry appeal. A few chunks of pineapple from the cooking of the ham went into the dish, as did the remainder of the cocktail shrimp (we really hate to see those go to waste if we don't have to, of course).
We used just enough olive oil to coat the bottom of the pan – I'd have used toasted sesame oil had we had any, but no – added a coarsely chopped shallot to the pan, sauteed it until it was translucent, then added the orzo, chopped ham, and shrimp, cooking until the orzo was starting to brown and the ham and shrimp were heated through.
With a little soy sauce added to the dish at the dinner table, it didn't much resemble Easter dinner at all – which to me is key to being able to embrace a full week of leftovers. They just can't seem like a straight-up rehash of the dinner you just had, or your enthusiasm will quickly disappear. And the leftovers will not. A lose-lose for all.
If you don't have orzo salad hanging around, leftover rice would do the trick, as would leftover noodles. And, of course, you could always make new rice (though freshly made rice doesn't stir fry as well as leftover because of the moisture – it tends to clump more than leftover) or new noodles.
If ham stir fry isn't your thing, but you still need a way to use up those leftovers, this ham and sweet potato soup is a good option, too, or you could make Croque Monsieur.
I think that's Thursday night's dinner, the Croque is, only with leftover cheddar rather than Gruyere, as we did manage to kill all of the Gruyere we had in-house in the making of the potato gratin. No food waste there. That's how it is with cheesy potato dishes. Never any leftovers when you want them.
How are you using your holiday leftovers?