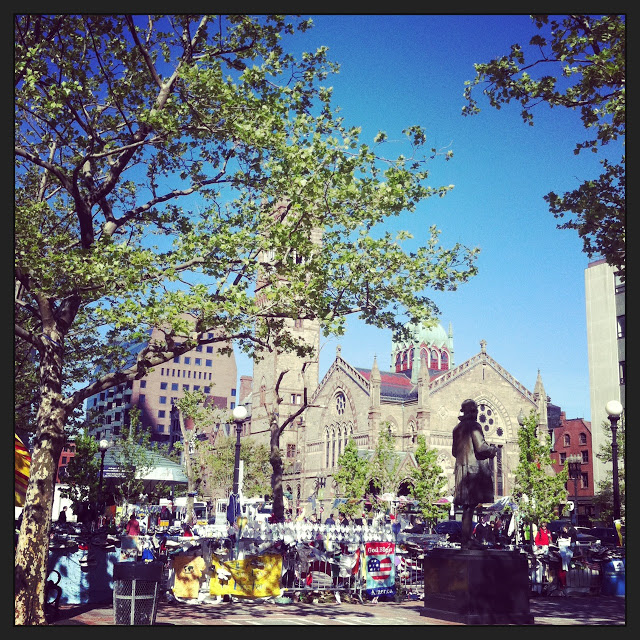 Today marks the one month anniversary of the Boston Marathon bombings, which I've not yet had the fortitude to write about here, and still remain conflicted about trying to put my perspective on it, as I wasn't there, I didn't experience the horror, I don't know anyone personally who was injured or, for feck's sake, was killed while participating in what is meant to be one of Boston's best and most celebratory days. A glorious springtime rite of passage for the entire city.
I have, as so many Bostonians and Boston-area residents have, spent many Marathon Mondays eating and drinking and cheering and laughing on Boylston Street. JR's brother used to serve on the board of the Boston Athletic Association, he ran the 100th and 101st running, his daughters have run, my sister has run, my family has sat in those grandstands at the finish line, as dear family friends did a month ago today.
Another family friend was inside Marathon Sports when the first bomb exploded. She and her friend had been standing, cheering, in the same spot all day, the same spot where the bomb went off. They had decided moments before the blast to go into Marathon Sports for a minute. They were lucky, and yet, they witnessed so much devastation and horror.
"Their sneakers were soaked in blood," JR's niece told us of our friends, "a woman who lost her leg came into the doorway of Marathon sports, and they tried to comfort her while someone grabbed a shirt to make a tourniquet." Like I'm saying. They were lucky. That that statement even makes sense is beyond effed up.
I realize, too, that so many tragedies happen all around the world. West, Texas. Bangladesh. The ongoing random bombings of civilians throughout the Middle East. The disaster in Syria, now spilling into Turkey.
But Boston is the city where I have worked for 20 years, where JR went to school, lived, and worked, where my siblings and I have all lived, where my sister and brother attended college. Where my friends are.
Boston is home, just as much as our little house is home, and so it hits home more vividly, more intensely, even as we feel for those who are suffering elsewhere.
Tonight, Chefs Ming Tsai and Ken Oringer are leading the charge for Boston Bites Back, a benefit for The One Fund which will be held at Fenway Park and that will feature 100 of the city's best chefs. All of the proceeds will be passed directly to The One Fund. Tickets are available at the Boston Bites Back website, and the event runs from 6pm until 10pm.
If you aren't in Boston, or can't make it to Fenway tonight, Boston Magazine is selling prints of their Marathon cover, with all proceeds also going to The One Fund.
And, of course, if you want to give directly to The One Fund, that's a good way to help, too. Even one dollar would help.
To help the victims of other tragedies, The Red Cross is a good place to send your donation.
And thank you – thank you, thank you, thank you – for all of your help for Boston, for West, Texas, and for everyone else impacted by tragedy. No amount of money can change what they've been through, but for people in need of medical care, prosthetics, counseling, and the like, our help is so badly needed.