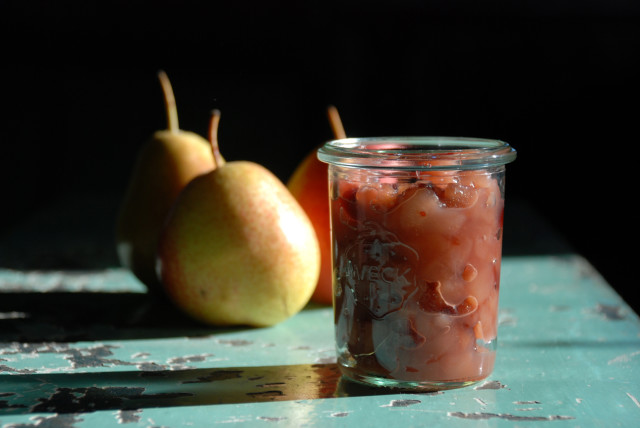 There is a cranberry bog down the street from our house – a number of cranberry bogs, in fact – and I do love watching the autumn progression of the bogs turning bright red, followed by a flurry of bog-flooding activity, the farmer and a gaggle of helpers working frantically to harvest them all as the season draws down.
Even if cranberries did not grow down the street from us, it would still be difficult to escape their influence here in southeastern Massachusetts. First, we have that whole First Thanksgiving event. Perhaps you've heard of it. Secondly, cranberries grow quite well here (as you may know), hence, our farm stands and farmers markets have top-quality fresh and dried cranberries – we're talking dried cranberries that would make you shun all others. And cranberry sauce is so easy to make, it's hard not to wonder why people buy the stuff in a can.
Well, I think I can answer that.
Sometimes, when good people get together, even if they love one another very much, they may not love homemade cranberry sauce. Perhaps it's the tartness. Perhaps it's the chunky texture. This dislike may be so pronounced that it's to the point that they prefer you bring jellied cranberry sauce in a can to Thanksgiving rather than what you think is your delicious, irresistible homemade sauce. It's no one's fault.
Because this can happen in any family, I have taken to making a less-tart cranberry sauce with apples, but even I have grown weary of it, so this year, I'll be bringing this pear-ginger chutney – as well as the can of jellied sauce – to our big turkey in a hole in the ground celebration.
While I did try to steer clear of the crans, I find it pretty difficult to resist their charms at this time of year, especially those of the sweeter dried variety, so there is a small scoop (a third of a cup, in fact – which lends a lovely color to the chutney, and even cranberry dislikers should be able to handle their presence) of dried cranberries in this very easy, very tasty pear chutney.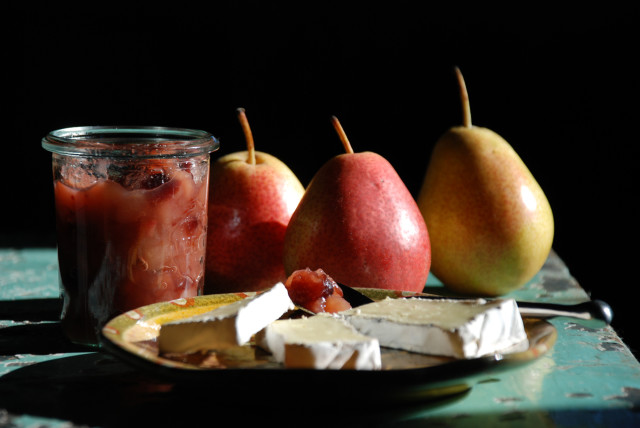 Ingredients
(2) large firm-ripe pears (10 to 12 ounces), such as Bartlett, peeled, cored, and chopped into approximately ½-inch cubes
2 tablespoons finely diced crystallized ginger (from roughly (2) 1 ½ by 2 ½-inch strips or (4) 1 by 1 ½-inch rounds if you're dicing it yourself)
1/3 cup dried cranberries
½ cup apple cider
2 tablespoons honey
Instructions
Combine the pears, crystallized ginger, dried cranberries, and apple cider in a medium saucepan and stir well.
Bring the contents of the saucepan to a simmer over medium-high heat.
Cover the pan, reduce the heat to medium-low, and simmer until the liquid has reduced by approximately two-thirds, 30 to 35 minutes.
Remove from the heat, stir in the honey, and let cool to room temperature, then serve it forth.
Notes
The chutney can be made a day or two in advance and stored in an airtight container in the refrigerator until it's time for your feast. Bring the chutney back to room temperature before serving: remove it from the refrigerator about an hour prior to dinner. The chutney is also great with cheeses, like Brie, aged Cheddar, or goat cheese, or as an accompaniment to your holiday Brie en croute.
http://www.tinyfarmhouse.com/2013/11/pear-ginger-chutney/