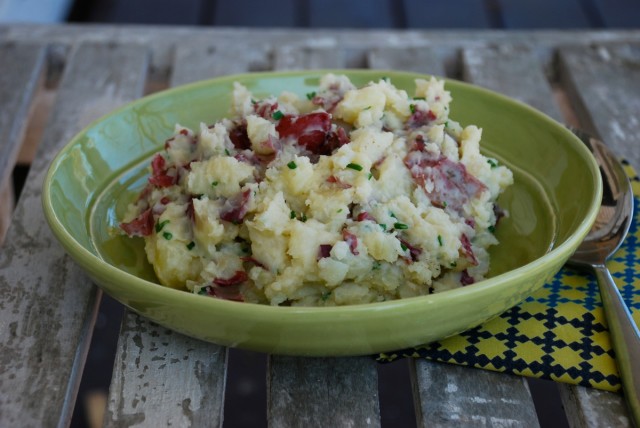 Could it be? Has spring finally sprung? It's hard to know, but there are glimmers of hope. Today, at least, there are glimmers. One has to be encouraged by 50-something degree temperatures two days after a nor'easter blows through, doesn't one?
Last weekend, during a one-day warm up, the chickens and I were finally able to spend a little quality time in the garden; them clucking and scratching, searching for worms, me groaning and listing chores, assessing fence damage and noting, with some chagrin, the numerous piles of rocks that have materialized over the course of the winter.
In New England (and perhaps where you live, too), the freezing and thawing of the soil each winter results in piles of rocks pushing up from the ground like clusters of bulbs each spring. Only unlike spring bulbs, these clumps are definitely not cause for cheer.
These once soil-bound rocks must be cleared before planting – or even tilling – can begin, and with true spring-like weather not quite yet in sight, the task is daunting. From daunting, it's a short path to frustrating, primarily because not completing the clean-up is also keeping me from spring seeding of greens, and peas, and beets, and carrots, oh my.
One bright spot – a grass-green bright spot – that presented itself during my garden walk-about was a clump of chives, still showing damage from last year's twisting and tearing – my careless method of harvesting them – yet they also showed the first signs of new growth, and, of course, that lovely green color. The green of spring, and of warmth.
One of my favorite spring recipes puts those early chives to good use, and it couldn't be simpler to prepare: Boil new potatoes, smash them with a fork, add crème fraiche and chives, viola! Delicious served warm, equally delicious served at room temperature, and all that while serving as reminder that warm days and garden growth can't be far behind.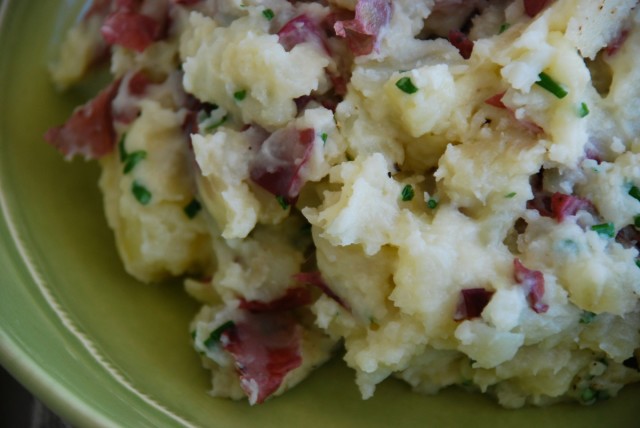 Crème Fraiche-Chive Smashed Potatoes
Ingredients
2 pounds small new potatoes (you're looking for potatoes that are roughly the size of clementines), well-washed
½ cup crème fraiche
1 fistfull of chives (or approximately ½ of a ¾ ounce store-bought container), finely chopped
kosher salt
freshly ground black pepper
Instructions
Place the potatoes in a large pot (at least 4-quart capacity), fill the pot with just enough water to cover the potatoes, then add about a teaspoon of salt to the water.
Bring the water to a boil over medium-high heat, then reduce to a simmer, and cook until the potatoes are easily pierced with a fork, approximately 15 minutes.
Transfer the potatoes to a colander, and drain the water completely.
Place the potatoes in a large mixing or serving bowl, and smash them gently with a fork until their skins just break.
Stir in the crème fraiche and chives, then season with salt and pepper, and serve them forth.
Notes
You may also serve this at room temperature and it's equally as good. It makes a nice spring brunch side dish, and may be made a day in advance and stored in an airtight container in the refrigerator until you're ready to serve. Also, it travels well. Very useful, indeed.
http://www.tinyfarmhouse.com/2014/03/creme-fraiche-chive-smashed-potatoes/