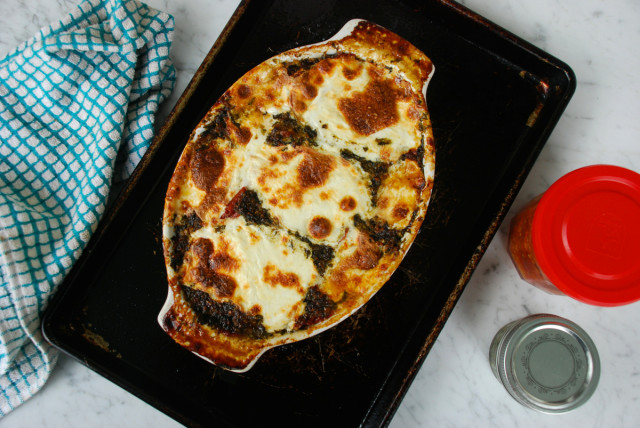 While pumpkin season may be upon us – I have seen them, they are ripe, and people are buying them – as is also the case for all of the delightful winter squashes that I do, indeed, love, I'm not ready for them just yet. At least not while our garden is still producing tomatoes and eggplant. No, no. This denial-prone lady is going to clutch onto summer for as long as possible. We have all winter for pumpkin. All freaking winter.
However, it is getting colder out at night. Cocktail hour in the garden or on the back deck is more like a cocktail fifteen minutes, if it happens at all (colder weather is good for sobriety – at least if you don't go to college in a cold and snowy city, like, say, Syracuse). So even with a desire not to recognize the onset of autumn, even I have to suck it up and realize that the days of Caprese salad eaten outdoors – comfortably wearing a sleeveless top, and serving the meal at 9pm at that – are probably past. Probably. If there is any shot of a warm up here, I am totally sitting outside at 9pm eating a Caprese salad. You betcha. As they say.
This dish here is less of a recipe and more of a suggestion. Once the eggplant started to produce in our garden, I'd harvest all that were ready once a week (usually Monday, in the spirit of meatlessness), slice them in half lengthwise, score their flesh, salt them and let them stand for about 15 minutes, pat off the salt, then grill them. After grilling, I'd drizzle them with good olive oil, sprinkle salt and pepper on them, and serve them with a green salad, tomatoes from the garden, and shaved Pecorino Romano cheese, crusty bread, maybe some prosciutto, and that was dinner. Fabulous al fresco in summertime temps, but not so good once the chill is on.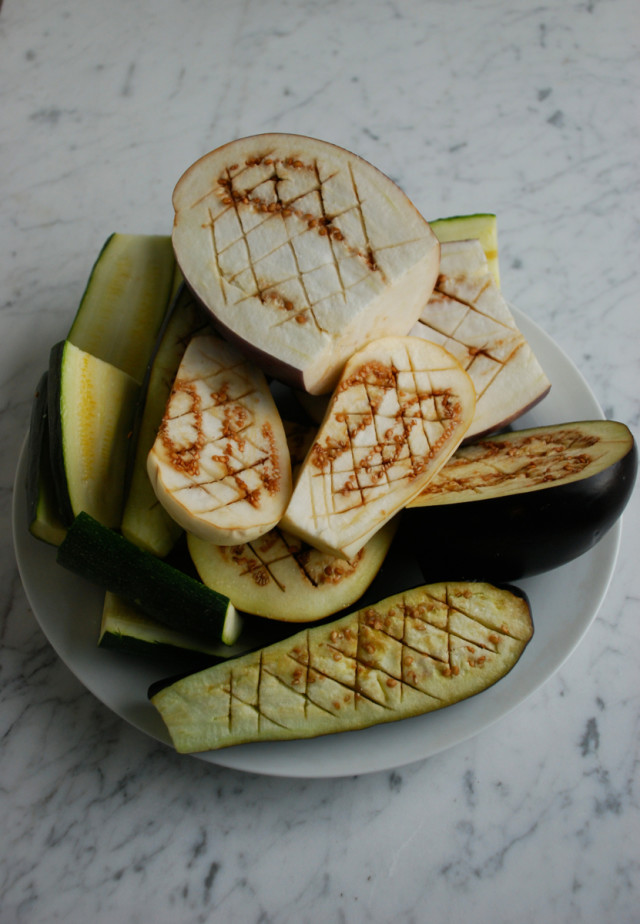 But as previously mentioned, we still have eggplant coming, and we still have tomatoes, and I'm still into grilling eggplant once a week (it's kind of soothing, actually), so I've winterized the approach. Or autumnized it – however you want to look at it.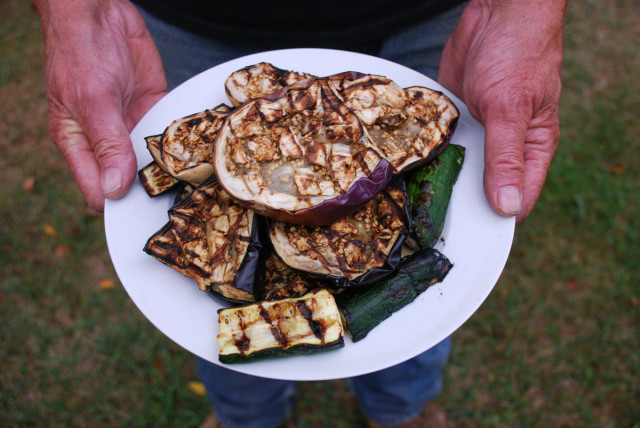 Scale this as you will, I'm using about 3 pounds of assorted eggplant, and I'm not afraid to grill a zucchini or two along with the eggplant – you shouldn't be either. The idea here is to have the tomato confit or slow-roasted tomatoes already prepared and sitting in your refrigerator awaiting use, likewise for the pesto. You can also make this vegan if you use vegan pesto and vegan cheese, or omit the cheese, but I'd find vegan pesto to use if it were up to me. The pesto is a nice touch.
The end result is a hearty, filling, cheesy (let's hear it for cheesy) vegetarian dinner that is also gluten-free. And one that uses up all those delicious end of summer eggplants and tomatoes. Good deal.
Grilled Eggplant Baked with Tomato Confit – and Cheese
Ingredients
3 or so pounds of eggplant
salt
a cup or so of confit tomato
2 or 3 tablespoons pesto
4 to 6 ounces fresh mozzarella
olive oil to coat the baking dish
Instructions
Slice the eggplant in half lengthwise.
Score the flesh with a knife.
Sprinkle salt over the flesh and let stand for 15 minutes, then pat dry.
Grill on medium heat flipping once midway through, approximately 5 minutes per side for smaller eggplant, 10 minutes per side for larger eggplant.You'll want to see char marks on both the flesh and skin sides, and the flesh should be soft to the touch and releasing liquid when it's done.
Let the eggplant cool slightly, then peel any tough skin from the flesh.
Preheat the oven to 400 degrees Fahrenheit.
Lightly coat the bottom a medium baking dish with olive oil.
Place the eggplant (and any zucchini or summer squash) into the dish.
Top the eggplant with a thin layer of tomato confit or slow-roasted tomato.
Top the tomato with fresh mozzarella, then spread pesto around to cover any tomato that is still exposed.
Bake until the cheese is melted and browned, 35 to 40 minutes.
Let the dish stand for 5 to 10 minutes, then serve it forth.
Notes
This is less of a precise recipe than a guide. Use your judgement, and improvise at will - you can use more eggplant to make a larger serving, add chopped, pitted olives if you like, top with breadcrumbs before topping with cheese, lose the cheese altogether, use tomato sauce rather than tomato confit...you get what I'm saying. But tomato confit is pretty amazing - makes almost anything better.
http://www.tinyfarmhouse.com/2014/09/grilled-eggplant-baked-with-tomato-confit-pesto-and-cheese/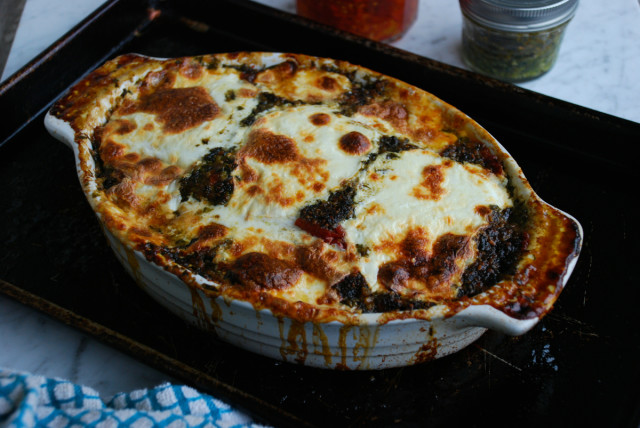 Doesn't it look like there's a screaming face in the middle there? That's gotta be because it (it?!?) knows how good this dish is. Or something. And it isn't going to succumb to pumpkin-frenzy just yet either.