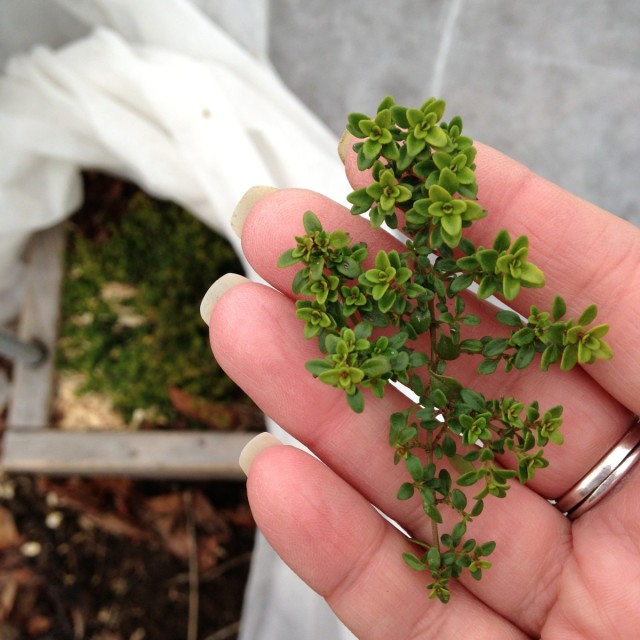 That's right. There may be snow on the ground, and temperatures may have dipped low enough that when uttered out loud, the temp is prefaced with a curse word, but earlier this week – what seems like an eternity ago now, given the cold blast – earlier this week, we harvested thyme. In January. In New England.
We have had cold frames in the past, but this year, with the installation of a new herb bed, we decided to use hoops and a row cover to extend the season a bit. JR drilled holes into the raised bed to provide footings for the hoops, formed the hoops from 1-inch diameter pvc, and we used a row cover that we had ordered from Gardeners.com. The result: Great season-extending success, using "can I harvest thyme in January?" as the standard for judgement.
The row cover protects up to 28 degrees Fahrenheit, though we've found that it's done quite well with temperatures even below that point (though not sustained colder temps, and not the brutally cold 1-degree temps we've seen in recent days). The rosemary, lavender, and thyme have thrived, even the parsley has done well, and chives are starting to pop up, too – not that we'll be able to enjoy those until they really come in in the spring, as I'm sure they're frozen solid as of today, but still. Chives. Growing in January!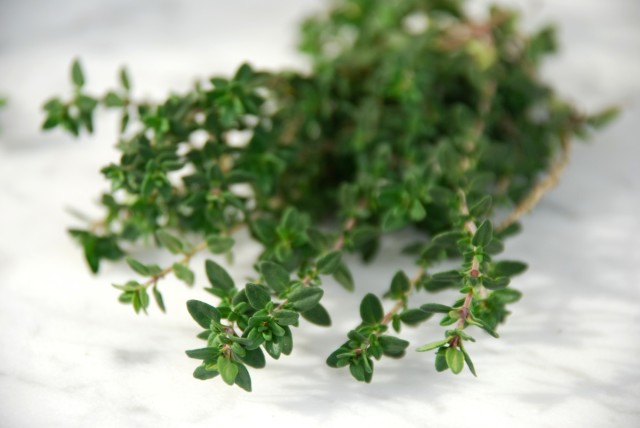 We harvested enough thyme to carry us through the rest of the winter (we have 6 plants, which, as you might imagine, indicates that we use an awful lot of thyme), then spread the thyme out to dry in some cardboard gift boxes that didn't get used over the holidays. Because the house is so dry, the thyme became dry quickly as well, in about 3 days, rather than the normal 5 to 7 days we experience at the end of the summer. Next, I'll remove the leaves from the stems to store in glass jars for use until spring.
Even if you don't have a garden, you, too, can dry fresh thyme when you buy it at the grocery store or farmers market. Just remove the thyme from its package (or bunch), spread it out on a plate (or in a cardboard box, whatever works for you), and give it 5 to 7 days to dry. You can do this with most store-bought herbs, eliminating the problem of rotting herbs wasting away in the refrigerator.
As far as January in the garden goes from this point forward, I'll be scouring seed catalogs and dreaming of the days when the garden looks like this once more.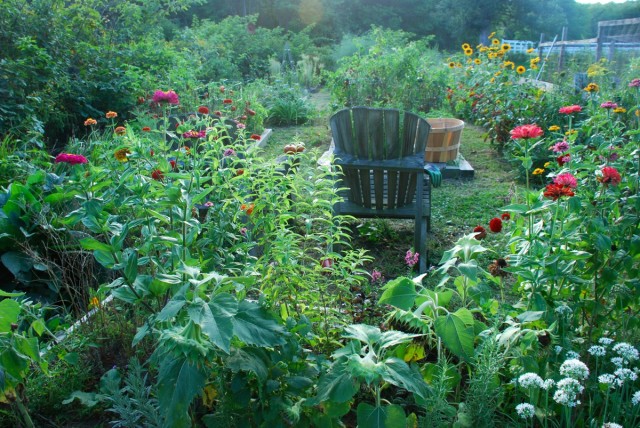 Happy growing season dreaming to you as well! Are you going to grow anything new this year? We're going to try artichokes and will give cardoons another go (the first try wasn't so great – second time should be a charm!). Can't wait!