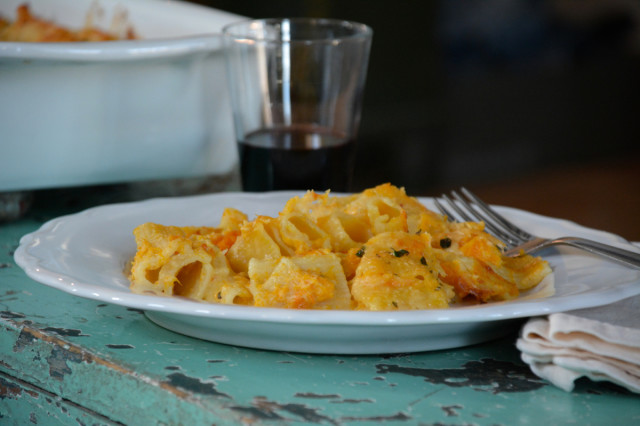 On a rainy, rainy night the first week in December, we – and by "we", I mean JR, me, and 10 others – first sampled the dish that would inspire this one. Ooohs and ahhhhs ensued as the dish was passed around the table, just one bite for each of us, then back to the lucky woman who had actually had the brains to order it.
We – all 12 of us – were at Al Forno in Providence for a birthday celebration, and the other Amy at the table – the smart one – scored the winning dish of the evening, called (something along the lines of) Pasta with Pumpkin and Four Cheeses.
If you've been to Al Forno, you know that they are famous for their wood-grilled pizzas, their made-to-order desserts (please place your dessert order while ordering your dinner to insure that dessert is ready by the end of your meal), and their pasta with four cheeses. This pumpkin version was a stellar late fall take, uber-rich and decadent, with pancetta crumbles and pockets of gooey ricotta packed in among the pasta and pumpkin – and, of course, there were those other three cheeses.
At home, my first attempt was an abject failure. I hadn't roasted the squash nearly long enough, my cubes remained cubes, when what was really required was mash, and that alone was enough to ruin the appeal of the dish.
The second go was an improvement, the butternut squash roasted for nearly an hour until it was dark golden brown at the edges, practically mashing itself as it was removed from the roasting pan. And that second try at Al Forno's mac and cheese was rich. Possibly too rich for at-home dining (could there be such a thing? Well, if you happen to have your cholesterol checked on the Monday after New Year's, the answer, my friend, is "yes". Settle down on the bacon and pork products, already. That was the message – implicit – from my doctor, whether she realized it or not, though I did decide that the occasional Béchamel sauce and giant load of cheese is still (somewhat) passable on my quest to reduce my cholesterol – so long as I don't have mac and cheese all the time. Right? Right.).
This version emerged as the winner. No bacon, no pancetta. No pork products! No ricotta either. Only one cheese. And that's okay. It's a tasty cheese, after all, that cheddar is.
However, if you'd like to use multiple cheeses, and add a bit of bacon, you go right ahead. Just be sure to schedule that routine blood work of yours for sometime toward the end of September, when you've been eating nearly nothing but garden tomatoes and whole grain salads for a couple of months. That's definitely the time for one's blood work (I for one, look forward to my re-testing later this year, definitely during harvest season).
But now? Now it's winter. It's time for some decadent (but not too decadent) comfort food. Behold, Roasted Butternut Squash Mac and Cheese.  Serve it on its own, or with a green salad (arugula anyone?), or as a side to – um, pork chops or spare ribs. Or chicken breast. You could always serve it as a side to chicken breast – nice, lean protein there.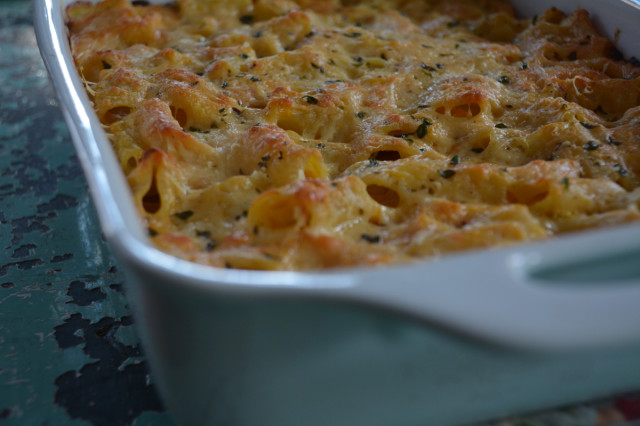 Roasted Butternut Squash Mac and Cheese
Ingredients
3 ¼ to 3 ½ pounds whole Butternut squash, peeled, seeded, and sliced into ½-inch rounds OR (2) 20-ounce packages pre-cubed butternut squash (yield: roughly 2 cups mashed squash)
1 tablespoon olive oil
1 pound Cavatappi, Rigatoni, or Fusilli pasta (see note), prepared according to the manufacturer's instructions
6 tablespoons unsalted butter
6 tablespoons unbleached all-purpose flour
1 quart (4 cups) whole milk, warmed
7 to 8 ounces cheddar cheese, such as Kerrygold Dubliner, grated (yields approximately 4 cups), divided
1/8 teaspoon ground nutmeg (optional)
1 teaspoon fresh or dried thyme
kosher salt
freshly ground black pepper
Instructions
Preheat oven to 375°F.
In a large mixing bowl, toss the squash with the olive oil, then transfer to a large, rimmed baking sheet and arrange in a single layer.
Roast the squash on the middle rack for 50 to 55 minutes, until its edges are golden brown, and the squash easily mashes with a fork.
Remove the squash from the oven, allow to cool slightly, then transfer to a mixing bowl and mash.
The squash can be roasted and mashed a day ahead of the mac and cheese assembly and stored in an airtight container in the refrigerator until you're ready to make the whole shebang.
Keep the oven at 375°F (or preheat it to 375°F - you know, if this is the next day or later the same day)
Prepare the pasta according to the manufacturer's instructions, then transfer to a large mixing bowl (see note).
In a large saucepan over medium heat, melt the butter. Add the flour gradually and use a whisk to blend it into the butter. Cook until the flour mixture is a light caramel brown shade, approximately 5 to 7 minutes, being careful not to let the mixture burn. Slowly add the milk, whisking constantly as you do to keep the flour mixture from clumping. Cook over medium heat, whisking frequently, until the sauce is the consistency of pancake batter, approximately 10 minutes.
Remove the sauce from the heat, stir in the nutmeg and 2 cups of the shredded cheese (roughly half of the total amount of shredded cheese you have there), then season with salt and pepper.
Stir the mashed butternut squash into the Béchamel sauce until it is evenly distributed throughout.
Transfer a small amount of the butternut-Béchamel to the bottom of a 13 by 9-inch lasagna pan and spread the sauce evenly over the bottom of the pan to coat it.
Pour the remaining butternut-Béchamel into the bowl with the pasta, stir well to combine, then transfer the Béchamel-coated pasta to the lasagna pan.
Top the pasta with the remaining 2 cups of cheese, then sprinkle the thyme leaves over top, season with salt and pepper, and bake until the cheese is golden brown and the mac and cheese is bubbling, 30 to 35 minutes.
Notes
While you can use any tubular or shell-shaped pasta for this dish, my preference is Cavatappi. I used Rigatoni in the photos here, but only because we were snowed in, and that whole milk that I had purchased over a week ago was in need of use, stat.
With that said about the Cavatappi, if you can get your hands on Afeltra Tortiglioni (Afeltra is the maker, Tortiglioni is the pasta type), by all means, use it instead. We recently brought a bag home from Eataly, and it is fantastic – if you like super al dente pasta. Which we do.
If your Béchamel cooking pot is large enough to accommodate the mixing of one pound of pasta into the sauce, you can mix them together in the saucepan (once the sauce is finished, of course), eliminating additional bowl clean up.
You can also make the entire mac and cheese up through the point of topping with cheese and thyme, then cover and refrigerate it until you're ready to bake it – say, the next day – just bear in mind that a cold-from-the-refrigerator mac and cheese will take a little longer than 30 to 35 minutes to reach golden-brown-cheese-and-bubbling-sauce status.
http://www.tinyfarmhouse.com/2015/02/roasted-butternut-squash-mac-and-cheese/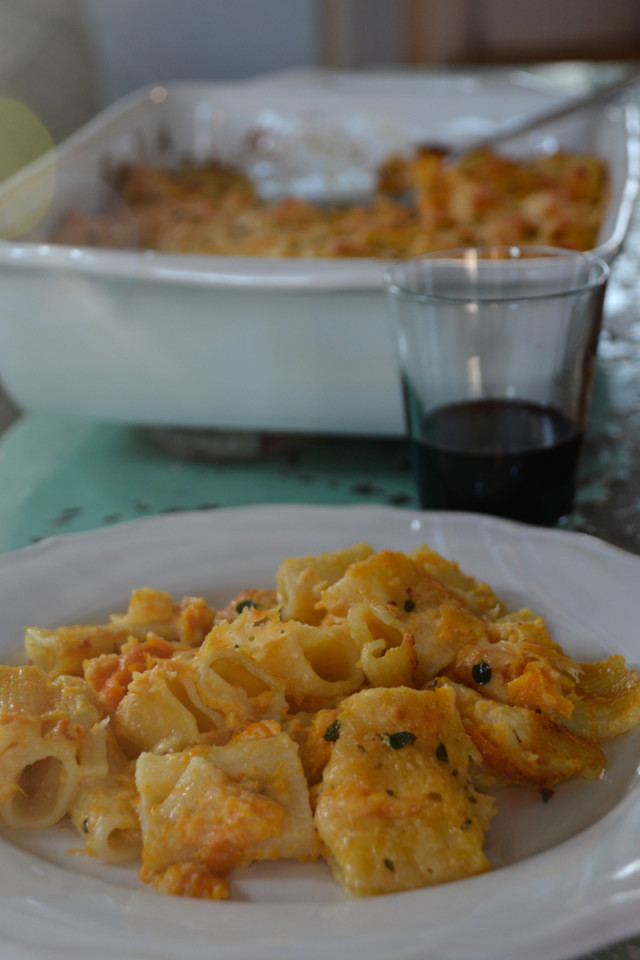 Side note: my cholesterol isn't that unruly if you're concerned. Just up a few ticks from 2014's results. Sure to be under control in no time – now that I'm off of bacon for a bit. And now that the holiday sweets and treats binge is over. Notwithstanding the current mac and cheese binge, of course.